The Hancock-Henderson Quill, Inc.

---
Meet Your Neighbor
by Christy Kienast-The Quill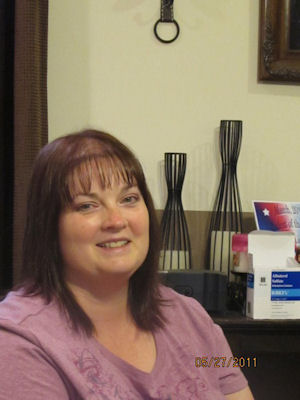 Meet your neighbor Tina Louise Topping Lionberger of La Harpe.
Tina was born in Fairfield, IA on January 7, 1974 to Dan and Jennifer Topping. She was raised in Birmingham, Iowa attending 7 out of the nine schools in Van Buren County, Iowa.
Her siblings are Jody (Tim) Squier of Ferris and they have two children, Donovan and Brianna. And Danelle (Nolan)Truitt of Libertyville, IA.
Tina, her mother and sisters moved to La Harpe in 1989 and Tina graduated from La Harpe High School in 1992. She attended WIU and Carl Sandburg for some college training.
On June 26, 1993 Tina married Michael Lionberger at the Christian Church in La Harpe. Right after their honeymoon, Mike, who was serving in the National Guard, left for 3 months of active duty.
Tina and Mike have three children, their oldest, a son Devin, was born on September 26, 1994 and will be a Junior at Illini West; Baileigh was born August 17, 2001 and will be in the 5th grade this fall. Their youngest child, Lily, was born February 2, 2006 and will be in kindergarten this coming school year.
Tina is self-employed and is the owner of Lion's Den Daycare. She has previously worked at The Carthage Terrace and worked in home health care with the elderly.
Her husband Mike is employed by Frontier Communications.
Tinas' father Dan still lives on the family farm in Birmingham. Her mother Jennifer lives in Winchester, VA and is a home health worker. Her grandmother Betty Topping lives in Fairfield, IA and her maternal grandmother, Joan Heminger lives in Paducah, KY.
Mike, Tina and Devin lived in Kirksville, MO for a short time from 1995-1998, before moving back to the area. They purchased their present home in 1998 and are committed to a lifetime of remodeling.
Tina is very active in the community. She is a Junior Girl Scout Leader, Treasurer for the La Harpe PTO, and a Creative Memories consultant.
She is also active with the La Harpe Haunted House & Easter Egg Hunt and plays a big part in decorating the city park for Christmas.
The Lionberger family have two pets, dogs Millie and Blackjack.
In her spare time, Tina loves to shop, scrapbook, loves to go on vacation and likes to go camping with her family.
---