The Hancock-Henderson Quill, Inc.

---
Ride Honors US Heroes
3rd Annual Cpl. Joshua D. Palmer Tribute and Remembrance Ride
-by Christy Kienast, The Quill
On June 25th the 3rd Annual Cpl. Joshua D. Palmer Tribute and Remembrance Ride was held at the Annex in La Harpe.
The ride is held to honor all fallen veterans including Cpl Joshua Palmer who laid down his own life November 8, 2004 in an attempt to save another Marine in Iraq.
In doing so he was awarded the Navy Marine Corps Medal Posthumously.
His parents Doug and Carole Palmer started the annual tribute and remembrance ride for Josh and all those fallen heroes who are dear to us.
This year there were just over 100 motorcycles, most of which had 2 riders each, and about 15 vehicles with several additional passengers. The Ride of Pride Semi from Schneider Trucking also came along.
The ride is about 143 miles long and starts at the Annex in La Harpe. It continues through several communities and pays tribute to 7 of our fallen soldiers.
The morning began with registration, and an opening ceremony that included the presenting of the colors by the American Legion, the National Anthem sung by Melissa Burt, a fly over by Brian Blythe,
USAF and the opening prayer by Don Miller.
Brian Blythe of La Harpe was honored to be asked by the City of La Harpe to do the fly-over for the Memorial Ride.
Brian was in Iraq when La Harpe lost Josh and said he always thinks of him and wishes his family the best on this Day of Remembrance.
La Harpe Mayor Ken Brown remarked that the fly-over was one of the best he had been involved with.
A member of the AUSA spoke about their organization and how the funds are used to assist Wounded Warriors in their transition back into civilian life.
Then all Gold Star families in attendance, were introduced and they honored all veterans who were attending the ride.
Don Miller spoke about the honorees at each stop and provided each with a fitting Bible verse and prayer.
The first stop was in La Harpe to honor Cpl. Evan T. James of the USMC, next they went on to Blandinsville for their 2nd stop to honor Cpl. Michael A. Dewitt of the USMC.
As they were going through Bushnell, they were surprised to see that the town had gathered along the route, lining the road with American flags to help honor and remember those that gave their lives for our country.
Their third stop was in Canton to honor Spc. Christopher A. Bartkiewicz of the US Army. Christopher's family traveled to Illinois from North Carolina to be involved with the ride.
Christopher's mother, Darlene, was very touched to see all the bikes and vehicles that pulled in and said Christopher would feel so proud and honored.
From there, riders moved on to the Nazarene Church in Lewistown.
While there, all riders were offered sandwiches and drinks and offered a place to rest and dry off, which was welcomed since they had been riding in the rain.
They continued on their way and were escorted by the Macomb Fire Department, which included a family member of the fallen soldier they were honoring - Lt. Col. John H. Stein, US Air Force.
Lt. Col. Stein's wife and other family members were in attendance.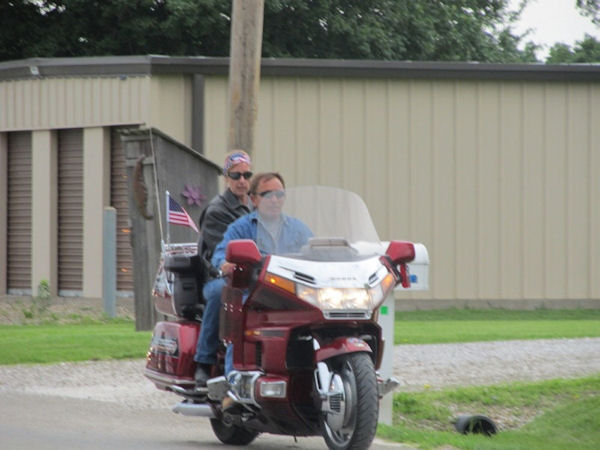 Doug and Carole Palmer lead the ride honoring all fallen veterans including their son Cpl Joshua Palmer, US Marines, who laid down his own life November 8, 2004 in Iraq.
---