The Hancock-Henderson Quill, Inc.

---
Meet Your Neighbor
by Christy Kienast, The Quill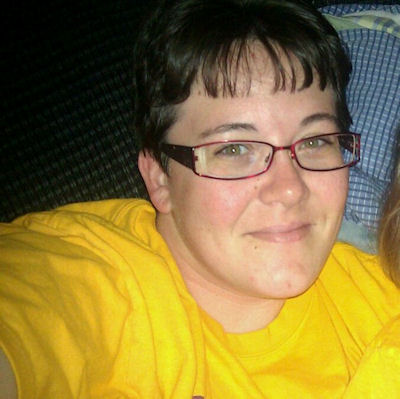 Meet Your Neighbor Sharon Loving Powelson of La Harpe, born in Davenport, Iowa.
Her parents are John and Veronica Penrod, who live in Burlington, IA. She has 4 sisters, 1 brother, and several aunts, uncles, and her grandparents who
all reside in Southeast Iowa or West Central Illinois.
Sharon lived in quite a few places when she was younger. She has lived in Keithsburg, Oquawka, Monmouth , Gulfport and she moved out on her own when she was 17 and moved to Burlington, IA and lived there from 1998 to 2006 when she moved to La Harpe.
Sharon went to school in Biggsville for a few years, fourth grade to freshman year of high school in Monmouth, then she went back to Union (West Central) for her sophomore and junior years. Sharon got her GED in 2006. She also attended Western for a few years.
Sharon married her husband, Jamey on July 23, 2005. Together, they have 6 children, Preston Powelson, (16), Caitlynn Loving (12), Shandler Powelson (10), Jordan Loving (10) Andrew Loving (7) and Jessica Powelson (5). They also have a dog named Buster who is 5.
Sharon has worked at Ayerco in La Harpe since October of 2006 and is currently the Assistant Manager.
She worked at the Circle K in Burlington, IA for 6 years before she moved to La Harpe.
Sharon says the greatest achievement she has ever made was becoming a mom-there is nothing greater than being a parent. Her kids are her life and she lives each day for them.
Sharons' hobbies include camping and fishing. When the weather and free time permits it, they love to go to the city pool.
A fond memory Sharon has of growing up was spending the weekends at her grandparents house. She tried to go there every weekend. Her grandfather was the only father figure she had growing up and he means the world to her. " I wish every person in this world had or does have grandparents like I have.
They are the two most wonderful people in the world!" Sharon says.
---