The Hancock-Henderson Quill, Inc.

---
Heat Boys Bowling Team On To IHSA State Competition
Riverboat Lanes in Godfrey were lucky-lanes for the persistant West Central Heat bowling team, as they competed this past Saturday in the IHSA Sectionals earning themselves a trip to the IHSA State Bowling Tournament at Fairview Heights.
The group definitely brought a smile to the faces of West Central Bowling Coach Sue Rothzen and her Assistant and husband Ron.
As they were bowling at Sectionals, spectators questioned, "Where is Biggsville?" Kids and parents from the larger schools in competition were curious, especially as they moved from 5th place to 3rd in games 3 and 4.
Then, after the 5th game, the HEAT wound up 33 pins over the 3rd place bowling team from Granite City to gain this team from the little rural school district of West Central 2nd place and a trip to state Thursday, east of East St. Louis.
To top it off, Dylan Kindig finished in 2nd place overall with 1315 and received a medal and Ryan Bigger finished in 7th place.
The TOP 2 TEAMS and the TOP 2 INDIVIDUALS (who are not on the top 2 teams) will advance on to state this Friday at St. Clair Bowl in Fairview Heights, IL
West Central is making its second consecutive appearance in the boys state finals!!!!!!
"I am not superstitutous," Coach Sue Rothzen said, who's son Colin bowls on the team, " but the boys wanted to go to Pizza Hut the night before Sectionals, just like last year--and Yes, we did!"
"After advancing yesterday, they wanted to go eat as a team, just like last year--Yes we did!"
Rothzen said they opted for a placed called QQ's in Jerseyville. It was a smorgasbord with American and pizza, but mostly Chinese food.
"Colin is not a Chinese person, but got a fortune cookie," she said. It read, "Your dearest wish will come true."
Rothzen said, "That was pretty dear wish for this sophomore boy who had a taste of state last year."
Last year, at the year end banquet, Coach Rothzen said she had put a quote at the bottom of the program:
"In sports, you simply aren't considered a real champion until you have defended your title successfully. Winning it once can be a fluke; winning it twice proves you are the best!"
With Coach Rothzen's challenge out there, it wetted their appetites for another state win.
"They are the best!," Rothzen assures, but when she told everyone that they would go to state, they thought , a school with an enrollment of 317 against schools like Alton (2135) and bigger, "-in your dreams!"
"I believe in a group of boys and they each believed in themself. We are not a fluke!"
Coach Rothzen said, her team and her fans are excited about a send off that is being planned for this Thusday at West Central High School, rural Biggsville at 9:30 a.m..
Hopefully, everyone can make it to the send-off Thursday for this "FANTASTIC" group of young area bowlers and a coach with her own belief plan!!!!
The final team standings for the Sectionals hosted by Alton High School is:
Alton (Sr) 6117
Biggsville (West Central) 5943
Granite City 5815
Highland 5741
Edwardsville (HS) 5508
Taylorville 5387
Roxana 5244
Bethalto (Civic Memorial) 5148
Breese (Mater Dei) 5042
Edwardsville (Metro-East Lutheran) 5010
Wood River (East Alton-Wood River) 4886
Jerseyville (Jersey) 4882
Johnny Ryffel 168* xxx xxx xxx xxx xxx 168
Colin Rothzen 197 164* xxx xxx 159* xxx 520
Logan Stogdill 214 182 194 169* xxx 182 941
Dylan Kindig 180 234 213 206 257 225 1315
Ryan Bigger 193 214 179 224 236 182 1228
Tyler Bundy xxx 182 260 211 171 146* 970
Jared Clark xxx xxx 197 213 162* xxx 572
Zach Swisher xxx xxx xxx xxx xxx 229* 229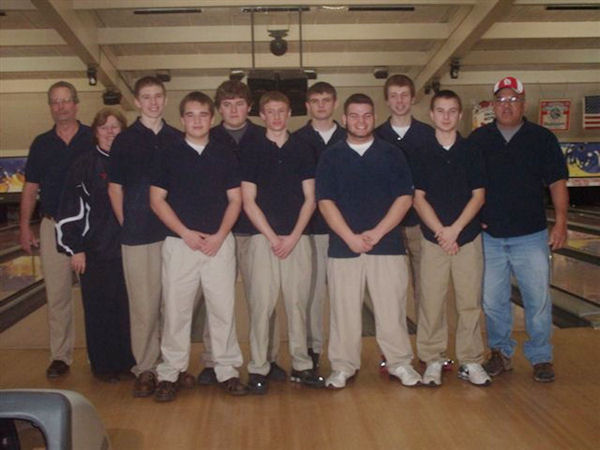 Ron and Susan Rothzen, Colin Rothzen, Zach Swisher, Ryan Bigger, Tyler Bundy, Johnny Ryffel, Dylan Kindig, Logan Stogdill, Jared Clark.and Assistant Coach. -photo submitted
---