The Hancock-Henderson Quill, Inc.

---
Meet Your Neighbor
by Dessa Rodeffer-The Quill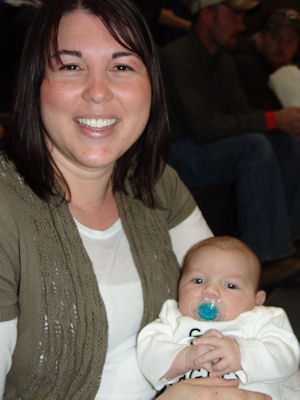 Meet your neighbor Robin Hensley Bennett, now of O'Fallon, Illinois. She has been a 5th grade teacher at Delores Moye District 90 the past three years.
She previously was a Kindergarten teacher at West Central for two years.
Robin was born at Burlington Medical Center March 4, 1982 and raised in La Harpe. She graduated from La Harpe High School in 2000 and Eureka College in 2004 and received her Masters in Reading and Literacy from Walden University.
Robin married her husband Brett of Terre Haute, a La Harpe High School graduate, June of 2004 at the Burnside Christian Church.
Brett works for ITW Paslode that manufactures framing tools for construction. He sells nail guns and nails to distributors.
An exciting time in their life was the birth of their first child, a son, Brandt Nicholas at Anderson Hospital in Maryville.
Robin's parents are Richard Hensley of La Harpe who works at Town & Country Service of La Harpe for Rex Huston in heating, plumbing and electrical work. Her mother is Karen McHugh of Jefferson City, MO. Karen was a former employee of The Quill, and Hancock County Assessor. She is now working for SEMA,The State Emergency Management Agency of FEMA.
She has one sister, Andy Hensley who lives in Chicago.
Robin enjoys visiting with family and most recently coming back to La Harpe to watch the basketball action of the La Harpe Middle School where her brother-in-law Braden Bennett was playing against the West Central Heat.
Robin said a special vacation was when she and Brett traveled to the Wisconsin Dells and met other college girlfriends and their husbands.
The thing that Robin says she most enjoys is being with her husband, Brett, and being a mother.
---