The Hancock-Henderson Quill, Inc.

---
Adkisson Auctions Farmland For $8,000 an Acre in Henderson County
Land Sales Hitting All Time Highs --Investments Paying Off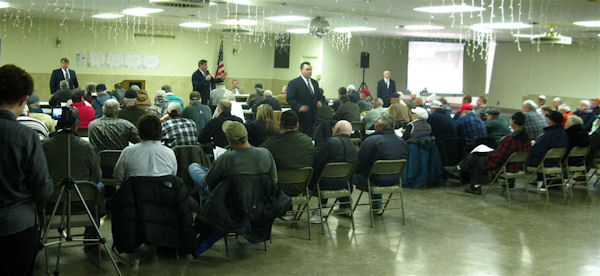 by Dessa Rodeffer, Quill Publisher/Owner
"This land is selling today!" Auctioneer Van Adkisson assured a room full of farmers preceding a 270.45 acre Henderson County farm auction on Thursday of last week on a blistery cold snowy January.
And sell, it did, with two tracts going for over $8,000 an acre ($8,750 and $8,850).
Jerry Carnes and his son Jason were the buyers and purchased the 4 tracts of farmland that sets along Highway 94 (4 miles north of Stronghurst) and near his business - Country Auto.
The record farm sale came on the heels of record-high farmland auctions in nearby McDonough/Schuyler Counties and one in Hancock County.
75+ acres in McDonough and 96+ acres in Schuyler County from the Herschel E. Tribbey Trust & Lillian G. Tribbey Trust sold on January 10th at the Rushville Dining Co. for a Record Land Price of $10,500/Acre according to Sullivan Auctioneers, LLC of Carthage website.
Then nine days later on January 19th, a 67.3 piece of ground of Roger and Shirley Tripp in Hancock County sold for a New Record Price of $10,800/Acre gaining the Tripps a $726,948 check. According to the website of Sullivans & Son Auction, LLC of Carthage, Mike Sullivan auctioned the piece of ground at the Eagles Club in Carthage to Ralph Wiggenjost, of Ft. Madison, Iowa.
According to George Hennenfent, Roseville Attorney who was overseeing the interests of Thursday's seller, Louisa M. Kannberg of Florida, farmland has sold higher this fall than in the spring. He had heard that some farmland sold in Illinois lately for $11,000 an acre near Springfield, although he could not confirm it as yet.
Van Adkisson said he felt the higher sales was the result of high commodity prices, and low interest rates, and with the economy slowing, land is always a good investment.
December 1st through March 1st is when farmland is heavily auctioned, and it is true for Adkisson who usually conducts at least a sale a week and has 3-4 some weeks and keeps an up-to-date schedule on his website.
Adkisson has been auctioneering since he was 18.
"As a kid, I use to carry clerking sheets around for my dad who was a clerk for Auctioneer Morton Pratt, from Roseville." he explained. "That is how I got interested in the business.
"Auctions were a social event for farmers and drew a lot of interest out on the farm where they were most always held."
Now, at 55, Adkisson is in his 37th year and says he still gets nervous before every sale.
"Every auction is different, and there are no guarantees"
Thursday, Adkisson had four bid assistants with him, all licensed auctioneers. They were his son-in-law Jeff Gregory of Alexis, Bill Johnson (a college classmate), Bruce Burgland and Mike Cratty.
His daughter Heather Gregory is clerk and his wife Mary Kay are regular helpers with auctions.
Thursday's mid-morning auction of land formerly owned by Ivan Jacob and then sold to Louisa M. Kannberg of Florida was held in the Warren County American Legion Hall in Monmouth and drew interest from McDonough, Mercer, Knox, Hancock as well as Henderson and Warren Counties.
Tract 1 and 2 borders Hwy 94 and 3 & 4 adjoins it at the west. The land sold a tract at a time at bidder's choice. Jerry and Jason Carnes of rural Gladstone was high bidder each of four times with bidding starting off at $6,500, then $7,000 and then $8,000 when the auctioneer took a break.. The first session ended with a bid of $8750 and Carnes chose Tract 1 along the highway. The next Tract went for $8,850 and Carnes selected Tract two. Tract three sold for $7600 and Tract four ended at $7,150/Acre with a total average of $7945/Acre.
Adkisson reminded bidders, "It's all ready to plant." and "You'll forget the price and remember, you got the farm." "Our land is just as valuable, as Hancock and McDonough's."
---