The Hancock-Henderson Quill, Inc.

---
Meet Your Neighbor
by Dessa Rodeffer, The Quill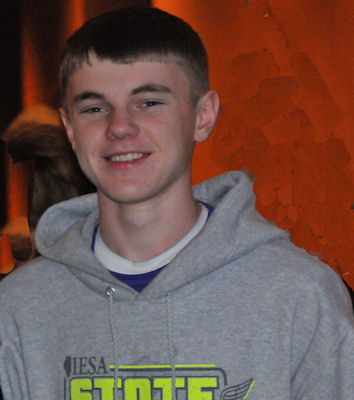 Meet Your Neighbor Jacob Sholl, an eighth grade student at La Harpe Junior High.
Jacob is the son of Larry and Joanna Sholl of Terre Haute, and brother to Annie Sholl, and step brother to Lari and Buffy Sholl.
Jacob's grandparents are the late Frank and Analu Jones, and Jan Jones, Ruth Sholl, and the late Donald Sholl.
Jacob plays all sports in junior high, including baseball, basketball, and track. His favorite class in 8th grade is social studies, and his favorite sport is track.
His best friends are the 6 guys he has been playing school and non school sports with since first grade.
He has no clue where he wants to go to college, or what he wants to be when he grows up, but definitely will be going to college. "I kind of come from a family with lots of teachers, (Grandpa, 2 Grandmas, Mom, 4 Aunts, 3 Uncles are teachers) so I might as well plan on the college thing" Jacob said.
Jacob has set some lofty goals this year in track, and hopes to not only make it to the state track meet, but to win the hurdles. He also wants to dunk a basketball in high school.
His most memorable time in junior high so far has been going to state in track last year and medaling in all of his events.
His favorite family memory that is still fresh in his mind is going to Arkansas last summer to his Uncle Jeff's lake house.
He likes to spend his spare time playing his Xbox, eating, hanging with friends, eating some more, and watching TV. His favorite television shows are "The Office" and "House".
He is looking forward to attending Illini West High School next year and making new friends, and is eager to play sports at IW. He will miss the cafeteria and the cooks at La Harpe, especially grilled cheese day.
Being a teacher's kid at school is ok with him, but he said he can't get away with too much because she always finds out everything!
If he could change something about his life, he would like to put his house on wheels and move it to La Harpe so he could hang out with people other than his family, even though he is proud of his very large and strangely unique extended family.
Claim to fame:..When Jacob was born, he was an already an uncle to his dad's grandchildren.
---