The Hancock-Henderson Quill, Inc.

---
Meet Your Neighbor
by Peggy Villwock-The Quill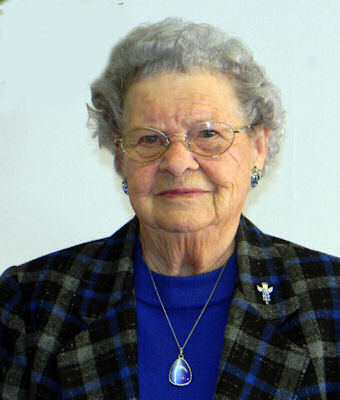 Elsie (Shutwell) Magin, was born on a farm SW of La Harpe on Armistice Day, Nov 11, 1920 to Earl and Elva Shutwell. She had three sisters Myrtle Fife, Lois Crane, and Ruth Kirchner.
Elsie went to Bradshaw Grade School and graduated from La Harpe High School in 1938.
She married Howard Magin in Ferris in March of 1940. They lived in Peoria for six years where their first of two daughters, Janet (Magin) Stokke, was born.
They returned to La Harpe in 1946 to help her parents with their farm. While expecting their second daughter Donna (Metcalf), they had made a trip to Macomb to do some Christmas shopping and returned to find their home had burned to the ground.
They felt, they were able to rebuild their home by March of 1947.
After moving back to La Harpe, they became members of the La Harpe Christian Church, and raised their daughters there. Art Vail was the minister at the time.
In 1952, Howard had to give up farming due to his health, and they moved into town and now, 59 years later, Elsie still lives in that same house.
The couple purchased the Amus-U Theatre from Ralph Todd and operated it. They loved the theater business and since there were no televisions at that time in La Harpe, they did a good business.
"The screen was an interesting contraption that was made very specially and when it was damaged, they had to go to St Louis, get a new one, and have it especially hung because of the design-which took about a week. When it wrinkled, we had to have people come from Chicago to re-hang it-that took another week!" Elsie said.
Elsie remembers they sold popcorn for 5 cents for a small bag and 10 cents in a large bag. Tickets to get in were 37 cents for adults and 15 cents for children-kids under 6 years of age were free.
When televisions started to come into homes in La Harpe, the theatre business diminished-like all small towns, so in 1958, they dismantled the theatre and built a bowling alley, called the "Lucky Strike Bowl."
They only had room for four alleys, but that seemed to be enough as they were busy 7 days a week!
For $1.00, you could get your shoes and bowl three games and people came from all the surrounding towns as they were they first in the area to have a bowling alley. They had leagues for women, men, and children as well as open bowling and were sometimes still open at 2 a.m.
They finally had to start closing early when the police department gave them a petition from the residents of the apartments above the bowling alley because of the noise, so they closed at 1 a.m. instead!
No alcohol was served in the establishment and none was allowed.
In 1955, Elsie went to work in Burlington, IA at Sylvania, which was her first factory job and she was very lucky to get the job as they had an age limit for hiring (35) . She was almost there! She worked there until in closed in 1968.
In 1970, she went to work at Memorial Hospital in Carthage and stayed for 14 years. She managed the gift shop, snack bar, and the cafeteria-but not all at the same time. She retired in 1983 to help care for her mother and husband. She lost her daughter, Donna, in 1990, her husband in 1995 and her mother, at the age of 102 in 1997.
Her mother, Elva, once told of a day when they let out her grade school to line the road to watch the first automobile go through Hancock County! What an historic moment!
Elsie now spends her time reminiscing and remembering what La Harpe was like and all the changes that have come. She remembers the angle parking on Main Street and coming to town on Wednesday nights to hear the band in the park which was full of people.
She and her sister would pray there would be no rain on Saturday so the roads would not be muddy and they could make it into town to spend their nickels and dimes they received for allowances.
"It saddens her to see so many of the buildings empty or gone-including the old Tremont Hotel and the fastest racetrack around that drew thousands of people to La Harpe," she said.
Elsie enjoys her yard work and working at the La Harpe Museum, operated by the La Harpe Historical Society, which is open on Mondays and on Saturdays.
She invites folks to come and see all they have collected-including the old sign for the Women's Restroom which used to be in the building that houses the Museum.
You can see collections from her parents' grocery store which they had operated in Webster for many years as well as many other photographs etc. She enjoys decorating her yard, especially at Christmas time, and visiting with family and friends at the senior center.
She is very proud of the fact that her daughter and son-in-law, Ken and Janet Stokke now reside in the home she was born in some 90 years ago.
With their care and blessings from the good Lord, she still is able to enjoy living in her home and to continue to enjoy the La Harpe that she loves so much.
---