The Hancock-Henderson Quill, Inc.

---
Anita Smith Named New Director of the Henderson County Public Library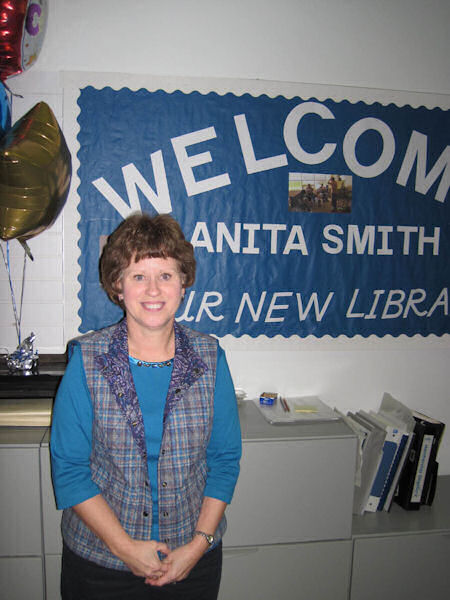 Biggsville: The beginning of 2011 brought the county a new Director at the Henderson County Public Library.
December 31, 2010, Carolyn Fry of Stronghurst, retired after 35 years working for the county library, and now the board has named Carolyn's assistant Anita Gail Smith of Biggsville, as the Henderson County Library Director, replacing Fry..
Anita, and husband Bruce Smith, have lived in Biggsville for 27 years and has assisted at the Henderson County Library for 20 years.
"Circulation has changed in the 20 years I have been at the library," Anita said. "When I started we were using a card-charging machine. I trained for the Follett Computer System and we began to barcode every item in the library; attach each item to the correct record from RSA into our system.
"Then in 2008, I trained with Alliance Library System for the new automated Sirsi Dynix system.
"This new system allows on-line access to 160 libraries and their entire catalog."
During her 20-year career at the Henderson County Public Library Anita has taken numerous classes offered by their Alliance Library System.
She has taken night classes from Southeastern Community College for Microsoft Word and basics.
She implemented the Gingerbread House Decorating Days held at the library the first weekend in December. The program continues to grow every year with great success.
She is a member of the Rozetta Baptist Church and is the Sunday School Secretary as well as a substitute Sunday School teacher.
She was team captain for three years for Relay for Life of the American Cancer Society for the Rozetta Baptist Church.
Anita says, "My passion is my husband, children and grandchildren.
"Spending time with them and watching all of them grow is so rewarding.
"Bruce and I have so many funny stories to tell of our grandchildren. They are always making us smile.
Children are just like little sponges, and make learning so much fun. That is what I love about the library environment.
"Watching a patron come into the library and helping them find just what they were looking for makes both of us feel good."
Anita says, "I would like to challenge Henderson County to become a county of readers! Come visit the library soon!"
~~~~~~~~~~~~~~
Anita and Bruce were married on October 6, 1979 and lived in rural Kirkwood for 5 years before moving to Biggsville.
Bruce graduated from Union High School, Biggsville, IL in 1975 and Anita graduated from Oak Ridge High School, Orlando, Florida in 1978. Bruce works at Farmland Foods Inc., Monmouth, IL for 22 years as a powerhouse operator.
Bruce and Anita have two grown daughters. Shana, 31 years old and is married to Brett Kennon and they have two children Ava - 4 years old and Andrew 2 - years old.
Shana is a registered nurse and works in the emergency room for OSF Holy Family Medical Center in Monmouth. Brett is a sales rep. For Legacy Sports International and works from home as well as travels for his company.
Their youngest daughter Alicia Smith, 26 years old lives in Paducah, Kentucky. She is a medical assistant and works for Dr. Jeffery Riney Family Practice, Paducah, Kentucky.
Anita's parents are Bill (Dean) Campbell and the late Kay Campbell.
They have lived in Biggsville for 37 years. Her dad was raised in the Rozetta area and was one of the first graduates of Union High School. He works for OSF Holy Family Medical Center, Monmouth and is the Plant Manager of the maintenance department.
She has two sisters and one brother. Debbie (Brad) Graham lives in Birmingham, Alabama and is a 6th grade school teacher at Moody Middle School for 5 years.
Her husband Brad works for Vulcan Materials Co., as their computer technician for 13 years.
They have two children Ben - 18 years old and a freshman at the University of Alabama at Birmingham, Noah - 13 years old and an 8th grader at Moody Middle School.
Tim Campbell lives in Pekin, and works for Aventine Renewable Energy in production for the last 21 years.
He has one daughter Sarah Campbell who is 14 years old and an 8th grade student at South Pekin Grade School.
Cyndi Campbell lives in Pekin, and works for OSF Medical Group, Peoria for 4 years.
She has two grown children. Kelly (Albert) Hall lives in Springfield, and they have two daughters Brooke - 6 years old and Abbey 3 years old. Cyndi's son Justin Stadler is serving in the United States Air Force, Osan, Korea.
Anita's father in-law and step mother in-law is Donald and Sylvia Smith of rural Kirkwood. Don is a farmer and still raises a few head of cattle.
Her mother in-law is Beatrice Day of Media.
She says, "I have wonderful sisters in-law and brothers in-law!"
They are:
Donna (George) Carson, Colchester, Bill (Kathy) Smith, rural Gladstone, Diana (Roger) Keever, Kirkwood, and Brian (Chrissy) Smith, rural Kirkwood,.
---