The Hancock-Henderson Quill, Inc.

---
TREASURE IN THE HEARTLAND
Who better to bake the American Pie than the Pizza Man
Monday night in Terre Haute at the United Methodist Church Fellowship Hall, there didn't seem to be an empty seat.
America had filled the room with involved citizens. A mix of people who had come from all over the area and state to listen to two representatives, one the state congresswomen Norine Hammond recently appointed to replace the late Republican State Representative Rich Myers, and the other, Illinois's own "Mr. Smith Goes to Washington," U.S. Congressman Bobby Schilling of the 17th District.
States Attorney Scott McClintock made the introductions and it was State Representative Hammond who stood at the podium first. The focus of her presentation was the state of the state and her frustration with the Governors' lack of any sort of a reasonable response when asked for basic budget information justifying his proposals.
It was almost with a sense of disbelief that the Representative Hammond described the goings on in Springfield. She left the podium having conveyed a sense of concern and determination to cut through the double-talk of state finances.
It was a nice contrast to watch the Freshman U.S. Congressman Bobby Schilling take the podium because it seemed like only yesterday that the "pizza man from Moline" was in Raritan asking for the community's votes.
Now, two years since his campaign began, and the newly seated Representative from Illinois' 47th District has returned to his roots, once again visiting another of the smallest of towns in his home territory.
Seated by his side was Bobbie's wife Christie whose mere presence complimented her husband with her beauty and poise. Several people mentioned that she would be a wonderful "first lady" some day.
Bobby describes his journey of the election process and beginnings of his job "like drinking from a fire hose."
The congressman also related that even though many didn't remember his name in Washington, it seemed as though everyone knew him as "the Pizza man with 10 kids."
The Congressman was overwhelmed by the national media attention he received. He didn't even have time to get his feet wet before they threw him in the pond and he was on Meet The Press. Then Face the Nation wanted him and he had to draw the line because he hadn't seen his family in way too long, and hoped the press would understand and invite him back.
You can't help but notice that this Illinois Congressman is on the fast track to influence and national exposure.
Bobby shared that he had been selected to sit on not only the Agricultural Committee, but also the Armed Services Committee, a committee that was close to his heart which he fought hard to be on (for Freshman Congressmen are not given appointments here he was told). Bobby made lots of calls and his persistence paid off. It is perhaps the most sought after committee appointment.
Soldiers and farmers are a critical part of the nations well-being and according to Bobby can best be served by the attitude, and approach of "We The People." Not of "us" and "them."
We the People was the focus of the congressman's talk.
Bobby said that he had no trouble crossing party lines when he felt the need to vote the other way in spite of a few looks from contemporaries.
Bobby is earning a reputation of not being a "yes" man and as open to cooperation as is defined in "A Pledge to America" that he read from his Blackberry.
The meeting wasn't about issues, but about involvement and attitude that seemed to leave everyone who attended feeling encouraged and enthusiastic about the states newest representative to Washington.
The analogy of what it takes to make a good pizza, being the combination of many ingredients that compliment each other resulting in something that we can all swallow, seems to be Bobby's intended approach to his new job in the legislature.
Who better to bake the American Pie than the Pizza Man, and his approach to managing the business of America with his key ingredient - We the People!
The treasure in the Heartland Monday evening was the gathering of Americans who are shaping tomorrow's history just by coming out and taking part in the process of making America great.
You can bet that there wasn't a person in that room that wasn't a voter and active in their government.
It was a cold Monday night, with good food, neighbors and politics in a small country town, and it made for a perfect Norman Rockwell painting of the ideal American way.
It's a nice beginning of seeing if the "Pizza Man" from this great Land of Lincoln and birthplace of President Reagan, will carry on with the recipe that has made America the best dish in the world.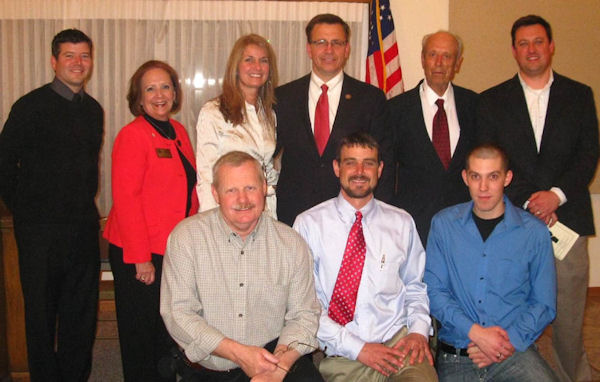 Henderson County Central Committee Republicans pose with two of their state and U.S. represesentatives after they had spoken at the annual Henderson County Lincoln Day Dinner Monday evening at Terre Haute. Standing from left is: States Attorney Scott McClintock, (Vice Chair) State Rep. Norine Hammond, Christie Schilling with her husband and U.S. Congressman Bobby, Larry Anderson County Republican Chairman Gladstone 1, and Dan Potts, Bald Bluff Twp.. From left front is Treasurer Kim Gullberg, Media Twp., Jeff Stanton, Oquawka 1, Josh Welch Stronghurst Twp.. (not pictured- Susan Higgins, Biggsville; Secretary Becky Gerst-Gladstone; Steve Pence-Lomax; Wendell Booton-Raritan; Bob Darrah-Rozetta; and Lowell Mohr-Terre Haute.) - see page 4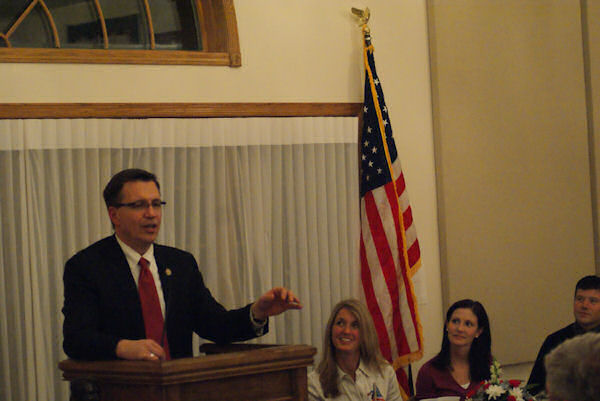 Congressman Bobby Schilling (R-IL-17th) talks to Republicans of his first weeks in office with his wife Christie of 24 years at his right, along with Henderson County Republican Women's president Jill McClintock, and her husband States Attorney Scott McClintock, Vice Chairman of Henderson County Republicans.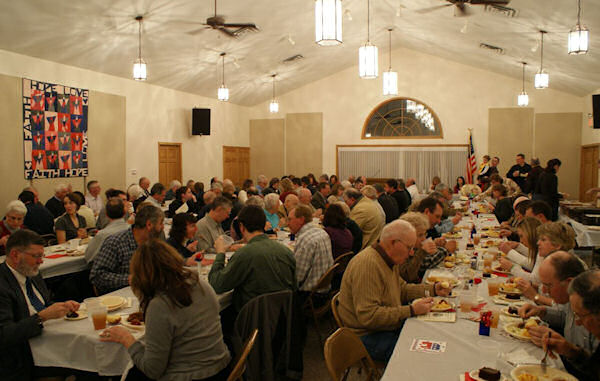 120 attended Monday evening's Lincoln Day Dinner at Terre Haute Methodists' Fellowship Hall and enjoyed a full course meal catered by R & D Foods of La Harpe. $195 was raised for Republicans scholarship fund from a silent auction of homemade pies which had been made by some great Henderson County cooks.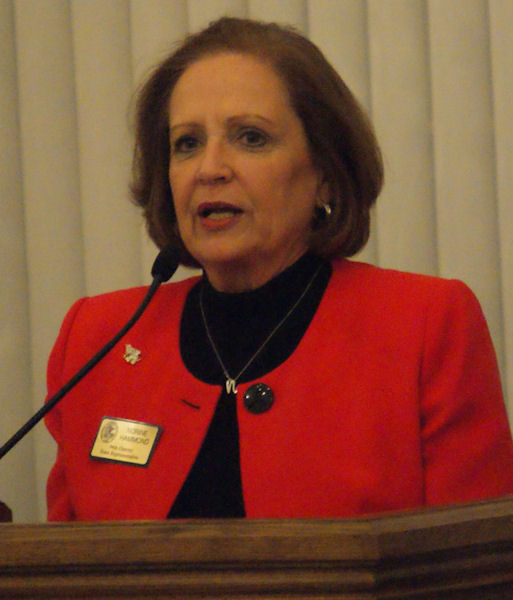 Norine Hammond, State Representative- 94th District, talks of the job she was appointed to after the loss of Representative Rich Myers.
---