The Hancock-Henderson Quill, Inc.

---
Meet Your Neighbor
by Susan Galbraith, Quill Reporter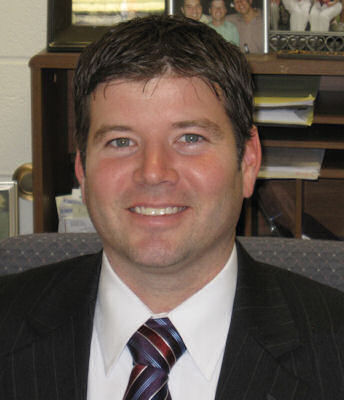 Meet Your Neighbor Scott McClintock, State's Attorney in Oquawka since July 2010. He previously was assistant state's attorney in Warren County for 3 years.
Scott was born and raised in Monmouth. He graduated from Monmouth High School in 1996 and continued his education by graduating from the University of Illinois in 2001.
After graduation, Scott worked on the 2002 political campaign for Galesburg Attorney and State Senator Carl Hawkinson who was then running for Lt. Governor with Attorney General Jim Ryan.
In 2006, Scott graduated from Northern Illinois Law School. He and his bride, Jill, have been married for 6 1/2 years.
Jill is community liason for Lincoln Prairie Behavioral Health Center in Springfield. They have a dog, Mooch, which they love spending time with.
Scott's parents are Gregory K. and Irene McClintock of Monmouth. His father is Chief Judge of the Ninth Judicial Circuit and his mother Irene is a homemaker.
He has one brother Ryan (Amy), an assistant golf pro at the Davenport, Iowa Country Club and wife Amy is a school teacher.
Scott has two sisters. Katie (Josh) Gilliam is a mother of 3 girls and expecting another child. Her husband Josh is a chaplain in the Army in Colorado Springs, Colorado where they live.
His other sister is Molly (Bill) Parsons, a homemaker with three sons. Her husband Bill is a Major in the U.S. Army at West Point, New York.
Scott and Jill are members of Faith United Presbyterian Church in Monmouth where Scott is an elder, sings in the choir, and plays the piano periodically.
He started taking piano lessons at a young age. He said, "My mom really prompted me and I am so glad she did. I even continued playing while I was in college."
He loves to play golf anywhere(!) especially Gibson Woods in Monmouth. In his spare time he enjoys playing basketball, in the winter, in a league at the YMCA.
He recalls his favorite vacation was with his dad after high school graduation when they went to Amsterdam with a church group.
They had Bible studies in the morning and were able to do sightseeing in the afternoons.
Scott remembers visiting a church outside of Amsterdam, where they took a tram to get there.
The church had a magnificant organ that Mozart had played.
At the same church there were headstones in the floor where they had buried people. They also saw Dutch windmills, visited the Anne Frank museum and the 7 bridges in a canal. Outside of Amsterdam was a miniature, to scale, replica of Amsterdam.
When asked what he liked most about his new position he replied,
"I like learning new things, reading new cases, the changes in legislation and how that impacts my job," and he said, "I have enjoyed getting a chance to meet everyone."
---