The Hancock-Henderson Quill, Inc.

---
Meet Your Neighbor
by Susan Galbraith, Quill Reporter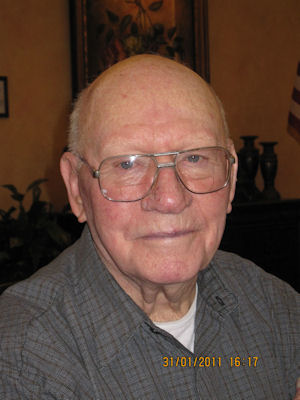 Meet Your Neighbor Granville J. (Jefferson) Laird.
Mr. Laird has lived at Oak Wood Estates, Stronghurst the past 2 1/2 months where everyone calls him "Mr. Red".
He moved here from Anadarko, Oklahoma (Indian capital of the U.S.). Previously he was employed at KBB Drilling Consultants in Houston, Texas, 14 years; 14 years at Fenix and Scisson in Tulsa, Oklahoma and 12 years at Big Chief Drilling Company with locations in Oklahoma, Texas, Mississippi and Kansas.
He was born in Chandler, Oklahoma but 15 days after his birth his family moved to Seminole, Oklahoma. He will celebrate is 85th birthday in May with a special celebration, in Oklahoma, with his family.
During the summer, when he was 7 years old, he went to live with his great uncle on a ranch, in a log cabin, in the mountains of southeastern Oklahoma.
Mr. Laird said, "The morning after I arrived my uncle woke me, had my horse saddled and ready for me to ride.
His family then moved to Harden City, Oklahoma and he attended a two room school house.
There were two at a desk and he said, "We only went to school a half day. That was the state requirement."
When he was 12 the family moved to Effingham and lived there until he was 16 years old and after that moved to Altamont for a year.
His dad moved around a lot being a driller he had to follow the work. But he followed with, "My dad was always very patriotic."
Following in his father's footsteps, he started as a rough neck in Kansas in 1943. A rough neck was the time before you were an official driller.
Mr. Laird joined the Navy in 1943-1946 when he was 17 years of age. He was on the YMS 125 minesweeper. He was released from the Navy on his 20th birthday. He then went to rough necking in Colorado for 6 months and later moved back to Oklahoma.
My dad said, "The worst thing he ever did was to buy me a tricycle because it had wheels and after that I was always gone."
In 1953 he married Ybonne and she passed away after 42 years of marriage.
They had 4 daughters, Karen (Ed) Cole of rural Gladstone. Karen is employed by Bridgeway in Oquawka as a Drug Prevention Specialist, and husband Ed is a salesman at Cole Implement; Jana Miller of Oklahoma City who was an airplane engineer and currently does home health care in Oklahoma City, Oklahoma; Margie (George) Grounds of Palestine, Texas. Margie is manager of a McDonalds and George is retired. A fourth daughter, Lydia, (Greg) Barron is a buyer for a major company and lives about 40 miles north of Nashville, Tennessee. One son, Jefferson Lee Laird (Paula) live in Pearland, Texas. Jeff is assistant chief engineer for Channel 11 in Houston and Paula is a homemaker.
He has 10 grandchildren, Miranda, Jake, Tanner, Katie, Chad, Crystal, G.W. Grounds II, Cooper, Archer and Ezra; two step-granchildren John and Tim. His grandchildren range in age from 32 to 1.
He joined the Navy when he was 17 so was not able to receive his high school diploma. However, when one joined the military, at 17, you were automatically granted a high school diploma. His daughter, Karen, was instrumental in him receiving his diploma from Hoisington, Kansas.
His parents, now deceased, were Willie and Jefferson Davis Laird.
He has one sister, Margie Wilbur, also deceased.
When he lived in Anadarko, Oklahoma he enjoyed attending the Salvation Army Church. He always had wrapped candy for the children and they were always ready and waiting for "Mr. Red" as they called him.
When asked about any hobbies his reply was, "I never had time for hobbies!"
He said, "I really enjoy my time here at Oak Wood. It is neat, clean, always helpful, smiling, good food and plenty of it! I have no complaints, I am very happy."
His volunteer activities were at church, Boy Scouts and the Navy.
My motto is, "Life has been hard but if you do what you like to do life is not nearly as hard."
---