The Hancock-Henderson Quill, Inc.

---
Oquawka Planning For Police Protection
by Dessa Rodeffer, Quill Publisher/Owner
After learning that the Henderson County Board had cancelled the police contracts between the Sheriff's Department and villages due to their decreasing numbers of deputies to adequately do the job, Oquawka Board members, at Monday night's regular meeting, felt it was urgent they begin planning for their own police protection.
Sheriff's Deputy Steve Henshaw, in his Sheriff's report, turned in 28 calls for January including two thefts under $300, two criminal damage to property, improper operating an ATV, two domestic battery, home invasion, disturbances, disorderly conduct, burglary alarm, missing persons, injured persons, traffic offenses and a list of other activities of suspicious circumstances.
Trustee Troy Jern noted that the county did not replace Steve Hayne's deputy position when he was elected Sheriff and "Crime is on the rise."
After discussion the board set an open meeting for Wednesday, February 23rd at 7:00 p.m. of the Public Safety Committee (Howard, Jern, Emery) along with Mayor Harold Henshaw, and Todd Shinberger where they will invite Mike Bohnenkamp from the Stronghurst Board for some insight on starting a new police department. In other business the board learned:
TV, printers, computers, fluorescent bulbs may no longer be left for garbage pickup after Sept. 1st, but can be left at the Gladstone Health Dept.
County was put on the Disaster List Monday and city workers Brad Gotaas, Mike Hays, e/o may turn in regular and overtime and equipment use from storm damage within 48 hr time-limit.
Carolyn Hawks will do a sign down by the boat Harbor for a reasonable price
Continental Grain will take the scale out and clean up around there and work on buffering noise of dryers to the south. They want to be a good neighbor.
Details and suggestions of 31 page Audit Report by Joni Blackburn of Cavanaugh, Davies, Blackman & Cramblet. Loans are for two fire trucks of $88,052, and Clerk Sandy Huff was doing a good job with books.
Stanton Insurance and James Insurance representatives on agenda for next meeting March 7th.
Heard Diane Meldrum say dogs were running at large. Dog catcher and Sheriff are to handle problems, homeowner is to file a complaint.
Coral Seitz reported of a Weather Spotters Public Training Class by the National Weather Service March 2nd at the Stronghurst Fire Station, it's free.
Ordinances need put in order and in workbook form, Attorney Mike Neff and Jamie Emery are doing some checking.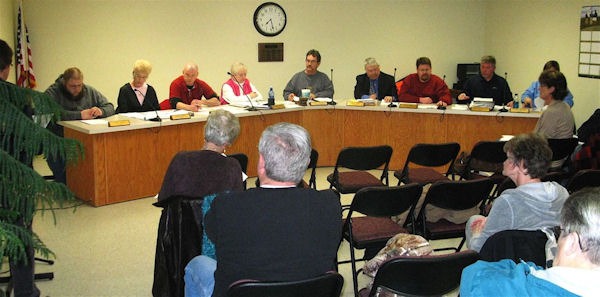 Oquawka Village Board listen to an audit report. Members from left: Jamie Emery, Coral Seitz, Jason Howard, Clerk Sandy Huff, Mayor Harold Henshaw, City Attorney Mike Neff, Troy Jern, Todd Shinberger, and Nancy Bundy.
---