The Hancock-Henderson Quill, Inc.

---
Meet Your Neighbor
by Christy Kienast-The Quill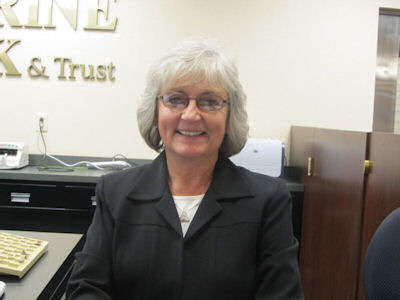 Carol Stevens
Meet your neighbor Carol Stevens of La Harpe.
Carol was born in La Harpe and raised on the family farm near Durham.
She is the daughter of Paul and Barbara Corzatt who live west of La Harpe still on the family farm.
Carol has one sister, Kathy Butler and two brothers, Gary and Wayne Corzatt. All are in the farming industry.
Carol graduated in 1971 from La Harpe High School. She attended Southeastern Community College in Burlington, Iowa, graduating with an associates degree in 1973.
This past year, she received her degree in medical transcription. Carol currently works at the Marine Bank and Trust in Carthage since mid- October of this year.
She previously worked at the State Bank of La Harpe upon her graduation from SCC and until her first daughter was born.
She returned to the bank after the birth of her second daughter but later left the bank to work at NTN-Bower for 9 years taking care of the the payroll for the company.
She returned to the La Harpe First State Bank of Illinois until December of 2008.
Carol was also an La Harpe Citiy Alderman and was La Harpe City Clerk of La Harpe during a 10 year span.
She and her husband Todd went to school at La Harpe and were in the same class. Todd is the road commissioner for La Harpe Township and they also have a farm where they raise and train horses. They now have 6 horses and enjoy trail riding.
Carol and Todd have two daughters, the oldest Lesley McCain lives with her husband in Arlington, Texas. They have four daughters and one son. The youngest daughter Kristin is married and lives with her husband in Wapello, IA. They have three daughters.
Carols favorite hobbies include horseback/trail-riding with Todd. They have done so since dating.
She loves attending sporting events and other activities of her grandchildren. She also loves taking trips to Texas to see the kids.
Some of her favorite times are on horseback. They have taken annual trips for many years to Eminence, Missouri for 2 weeks where they enjoy riding and relaxing. They also enjoy riding local State park trails.
Carol has also been known for her music skills, playing at the La Harpe Christian Church where she is a member, and for her ethusiasm for running.
---