The Hancock-Henderson Quill, Inc.

---
Meet Your Neighbor
by Susan Galbraith, The Quill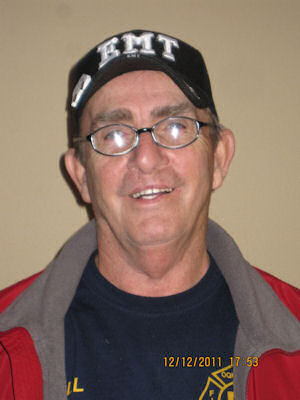 Bill Day
Meet Your Neighbor Bill Day of Oquawka.
Bill is presently retired but worked at Maytag in Galesburg for 22 years before driving a truck for a couple of years.
He is a newly licensed EMT for Illinois and for the past couple of years has been a first responder for the Oquawka Fire Department where he has attended a large number of ambulance calls.
Bill was born and raised in Saginaw, Michigan.
In 1980 he received his GED and went to Carl Sandburg College, in Galesburg where he received a welding certificate. While attending Carl Sandburg he was employed at Maytag as a lab technician and also raised a family.
He and his bride, Connie, have been married for 22 years. They have a son Chuck (Amber), who lives in Ft. Madison, Iowa. Chuck owns 9 Dot Studio in Burlington, Iowa where he does art and tattoos. Chuck's wife Amber was a hair stylist before becoming a homemaker. A daughter, Kathy (Don), Doney live in Galesburg.
He is the proud grandpa of Lucas (9) and Jack (5) of Ft. Madison, Iowa. Lucas is a student at a private catholic school in Ft. Madison, Iowa.
Bill attends Light of Life Tabernacle Church in Oquawka.
His parents, William E. Day and Shirlee are deceased.
He has one brother Don (Emma), who lives in Denver, Colorado. Both Don and Emma are retired. One sister, Sue (Dan) Griffith, lives in Galesburg. Sue does housecleaning and Dan is employed for the United States Postal Service. Another sister, Jean is deceased.
His number one passion is Blues Music followed by a trade he found on his nieces' phone. He makes Diddley Bows in his spare time. The Diddley Bow was invented by African Americans during slave years. Bill said, "At that time slaves were not allowed to listen to music so they decided to make their own instruments:..the Diddley Bow. Bill said, It only takes some broom wire and a couple of nails." To make Diddley Bows you can stretch the broom wire on the side of the house.
Take a couple of cans, force the cans underneath the wire so the wire has tension and then take a stick, or your finger and strike the string use a bottle to make music.
Bill makes them on a board and said he can use anything to make them but he usually uses driftwood or broom handles.
He said, "When I saw them on my niece's phone, it was love at first sight".
He has made 15 or 20 Diddley Bows, given away several and sold a couple. He said, "It it has turned into an art form for me."
His love is truly the ambulance and Oquawka Fire Department.
"They are a big priority of mine and I have built many strong friendships with that group."
---