The Hancock-Henderson Quill, Inc.

---
Meet Your Neighbor
by Susan Galbraith, The Quill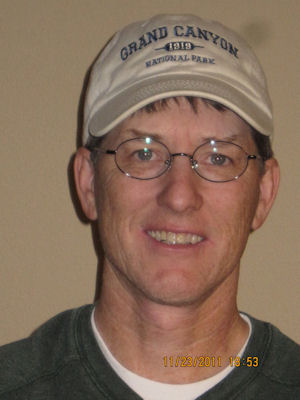 Meet Your Neighbor Brian Sterett of Biggsville.
Weirs Fruit Farm, rural Gladstone, have quite an experienced employee in Brian who has been employed there for 20 plus years.
Previously he was serving in the Marine Corp for 4 years and stationed at New River MCAS in Jacksonville, North Carolina. He also was in Saudi Arabia and Kuwait during Desert Storm.
He was born in Monmouth and raised in the Biggsville area.
In 1981 he graduated from Union High School and continued his education at Western Illinois University in Macomb receiving his bachelor's degree in history in 1995.
He has been married for 15 years to his bride Nanci. Together they are raising a son, Andy (13), a West Central Middle School student and Johanna (9), an elementary student.
For the past 22 years Nanci has been employed by General Electric in Burlington, Iowa.
His parents are Larry and Betty Sterett who live in rural Biggsville, both retired. Larry was a teacher at Union and Betty was employed by the First State Bank of Biggsville.
Brian is a member of the United Presbyterian Church in Biggsville where he serves as a trustee.
He has two sisters, Debbie, who lives in Jacksonville and is an adjudicator for the State of Illinois and Tamee (Dan) Renwick, who live in Monmouth and is a retired school administrator. One brother, Brad, (Carolyn) who live in Swansboro, North Carolina. Brad is employed by Boeing and Carolyn is a volunteer at their children's school.
His son, Andy, keeps active in football, Boy Scouts and in band where he plays coronet.
Johanna is in summer league softball and Girl Scouts.
Nanci is a two time breast cancer survivor. She was first diagnosed in 1999 and again in 2005 but is now in her 6th year of being cancer free.
The family enjoys traveling and camping. Brian has been in 49 of the 50 states and is contemplating a trip to Alaska sometime in the future. Besides 49 of the states he has also been in Europe, Canada, and Mexico.
He recalls when he was younger his dad and mom would take their truck camper and travel for 2 to 3 weeks after school was out in the summer. He said, "When we were half way through our vacation and half of our money was left we'd turned around and come home a different route." He and Nanci are now emulating what his parents did him and his siblings.
Brian and Nanci usually go south for their winter vacation.
Last January they traveled to the Grand Canyon (south!) and Brian said, "That time of year it sure isn't busy!" and then in July they traveled to Niagara Falls with their camper.
He is a member of the Biggsville Village Board and served as mayor for 2 years. Brian is in his second year as Cub Master of Pack #60 and has been involved in Cub Scouts 5 years. He is also a member of the American Legion.
---