The Hancock-Henderson Quill, Inc.

---
Meet Your Neighbor
by Christy Kienast-The Quill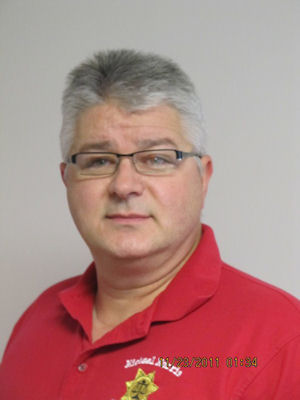 Meet your neighbor Michael Norris of La Harpe, born on April 2, 1962 in Fulton County and raised in Macomb.
Michael graduated from Macomb High School in 1980 and from Champaign Police Training Institute in 1993. He continued his education and achieved several certificates in the field of law enforcement.
He was the recipient of recognition plaques in federal criminal drug conspiracy, for his dedication and investigative skills.
Michael is the son of Gerald Norris, deceased and Mary Zimmerman, a retired cosmetologist. His older brother David Norris and wife Karla, live in Pennsylvania. They have a 16 year old daughter Hilari.
Michael is married to Janet, who grew up in Colchester. She works at the Carthage Memorial Hospital.
Michael has one son Brandon, 32 who is the Police Chief in Warsaw.
Michael has worked at the Hancock County Sheriff's Office since 2007 where he is a night deputy.
His previous employment includes the Brown County Sheriff's office where he was on assignment with the West Central Illinois Task Force. He also served as the Chief of Police in Colchester.
Michael is a member of the Burnside Christian Church. His hobbies include hunting, fishing and golfing.
Some of Michael's' fondest memories are the birth of his son and his two grandchildren.
He is seeking nomination as a Republican candidate for Sheriff of Hancock County and to add to his 26 years of dedicated law enforcement services.
---