The Hancock-Henderson Quill, Inc.

---
Meet Your Neighbor
by Susan Galbraith, The Quill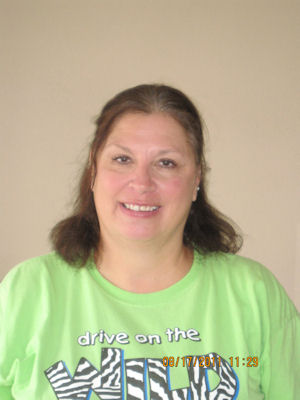 Meet Your Neighbor Barbara Davidson of Biggsville, a rural mail carrier for Biggsville Route 1 and Kirkwood Route 2.
Her carrier career began in 2000 when she started delivering the rural mail at route 3 Monmouth, following in her grandfather's footsteps who was a Monmouth City carrier for 44 years.
In fact Barb has a photo of him taken at the Monmouth Post Office in 1892 sorting the mail plus lots of memorabilia from those years.
After that her grandfather, Ed Saville, carried the mail on Route 3 for 40 years before being transferred to Biggsville.
Barb was born in Rantoul while her dad was stationed in the Air Force at Chanute Air Force Base. She said, "After 6th grade we moved all over the United States with dad's career."
Barb also joined the Air Force being active for 8 years. She was stationed in New York, Mississippi and North Carolina.
She graduated from Yorkwood High School in 1977.
Her dad is Don Bulen and her mom, Mary is deceased.
She was recently married to hubby, Jim Davidson.
She has one daughter, Deanna Miller of Biggsville. Barb said, "Deanna was the first class to go through Union before becoming West Central." She also has a son, Michael (Tracey) Wilson who lives in Burlington, North Carolina.
She has two granddaughters, Gracie (4) and Emma Wilson (1) who live in North Carolina.
Deanna is employed at Target in West Burlington, Iowa and Michael is manager of a Foodline Grocery and Tracey is a bank teller.
Barb has 4 siblings, Harold (Maggie) that live in Joplin, Missouri, George of Monmouth, Donald Jr. (Debbie) of Vine Grove, Kentucky and Cindy (Donnie) McVey of Oquawka.
She is a member of the First United Methodist Church of Monmouth.
In her spare time she is a huge fan of black and white movies and loves to watch the Turner Classic Movie Channel. She and Jim also have a Harley Davidson and go biking together. She said, "One Sunday a couple of weeks ago we traveled over 230 miles and just had a great time." She also is very involved in the genealogy of her family.
When asked what she liked most about being a mail carrier she replied, "My customers! They are great and I also love being out of an office, traveling and especially the freedom".
She has fond memories of when her dad was in the Air Force and was stationed in Anchorage, Alaska where they lived for 3 years. She said, "Every weekend we would hook up the camper on the back of the truck and go hunting, fishing, and snowmobiling. In fact I caught my first fish in Alaska".
---