The Hancock-Henderson Quill, Inc.

---
Jesse Porter: Stand-Up Comedian? Yes, But No
by Christy Kienast, The Quill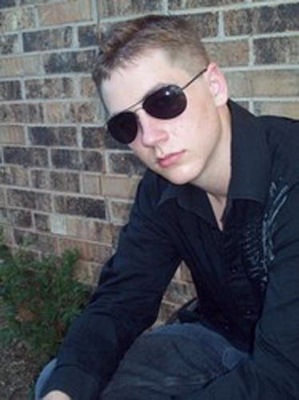 "The end of a life, the start of a better one!" That is the line under a photo of Jesse Porter on his My Space page, of himself laying in a hospital bed at age 16.
Jesse Lee James Porter was born on May 4th, 1991 in Sacramento, California to James and Sherry Porter.
At two months old, his family moved to Cusick, Washington and right after his 7th birthday, they moved to Sparta, Missouri.
In the summer between Jesses' seventh and eighth grade years, lightning hit the families' home and burnt it to the ground.
Jesses' father works construction so he and Jesse set out on a mission to build their new home. During this time, Jesse learned quite a bit about the construction trade and was beginning to think a career in construction was in the cards for him.
When Jesse was 15, his parents divorced and mom Sherry moved to Abilene, Texas with Jesse's sister.
Since his mother was gone and dad worked all the time, Jesse figured out it was very easy for him to sneak out with the wrong people, coming in at 2 or 3 in the morning.
All of the kids he was hanging out with had dropped out of school, drank and smoked marijuana. So, naturally, he started doing these things too.
After his freshman year of high school, Jesse decided to drop out of school and work construction full time. He thought he was making good business and thought he had a future in the business. During this time, Jesse's dad and his girlfriend were going to build a new home about 20 minutes out in the country.
One night at a party, he met a girl and got her phone number. On November 11, 2007 Jesse decided to pay her a visit and was leaving when his father called him and told to come back because the tail lights were not working on the car. He went back home and told his dad that they were working, so he turned around and left.
After this, everything for Jesse goes blank.
Jesse was told, he was going down the road and another car was coming around the corner to wide and was in Jesses' lane.
He swerved into their lane to miss them and then back to the right to get back in his own lane.
As he was turning to the right, the road turned to the left, so he over shot and hit the ditch on the other side of the road.
He went through a fence and got thrown out of his car (he was not wearing his seat belt).
He was thrown approximately 74 feet and at some point it was possible that he got ran over by his own car.
Sometime after 9 p.m., a man was driving home from a hunting trip and saw that the barbed wire fence was down.
Although this was not his property, he stopped to fix it, to keep the cows from getting out. He saw the wrecked car and called it in.
He couldn't find the driver and figured they had left the scene. A little later, he heard a noise, he described as someone "snoring". It was at this point he figured that a drunk driver had ran off the road and passed out.
After looking around a little more, he found Jesse. The "snoring" noise he heard was Jesses' punctured lung.
Normally in a situation like this, the person would have called 911 and an ambulance would have been sent out, but since this Good Samaritan was a firefighter, he was able to radio the hospital and they sent out a helicopter.
If Jesse would have gotten to the hospital three minutes later, he would have died of internal bleeding.
The extent of his injuries were life threatening. He broke his right wrist, both collar bones, shattered 4 vertebrates, cracked several others, and broke 3 ribs.
The doctor later told Jesse he has never seen a rib break like the one that punctured Jesses' left lung.
Normally when a rib breaks , it simply cracks and stays in place. Jesses' rib broke and was pushed almost entirely though his lung. The first surgery he went through was to remove the rib and part of his lung.
After three days, it was safe for them to work on Jesses' spine. His highest injury is a T-5. He got several plates and screws in his back.
At this time, they didn't think Jesse would have any feeling or movement from his chest down, including his ring finger and his pinkies on both hands.
Jesse spent one month in the hospital before being transferred to another hospital for therapy.
Jesse had to relearn simple things like brushing his teeth and sitting up in bed. He had to learn how to transfer back and forth from the bed to the wheelchair.
Another month went by and his rehab progressed to lifting weights and getting up ramps. Sometimes they took trips to see how he would handle the world.
A world that is not made for people who use wheelchairs. He has had to overcome many obstacles; he had to take the cupboard doors off of his kitchen cupboards so he can reach the sink better, or doing laundry with a top loading washer.
He recently discovered the laundry bag, for those socks and washrags and such that are hard for him to reach from his chair when getting them out of the washer.
He also has to use hand controls on his car, which are permanent. Meaning he can't just drive any car.
After Jesse was released from the hospital he almost never left his house. He wasn't in school anymore so he didn't really have much of a life. The hospital wanted Jesse to come back a couple times a week for outpatient therapy. He went several times, but since it was an hour each way for only a half hour of therapy, it didn't seem worth it, so he quit going.
When his mom found out that he wasn't going to therapy or school, he moved down to Abilene with her. Jesse got his GED and was in physical therapy for about a year.
In the fall of 2008, Jesse started doing comedy. A fellow comedian and also from Sparta, MO, Steve Zehner started Jesse on his way. Jesse says "Steve is more than just a comedian, he is a mentor, leader and a friend."
Jesse is often referred to as the "Sit-down Comedian." He believes, "I have an unfair advantage. I can make fun of myself, make fun of everyday tasks, and make fun of how the world sees me.
It's new, it's exciting and it will catch you off guard."
Jesse says "I love that look on people's faces when they laugh at my jokes, then realize what they're laughing at and kind of feel bad for laughing.
"Jesse has several shows when he travels up here from Abilene in September. His first show is in his hometown of Sparta, on September 3rd.
"When he gets to La Harpe, he has eight shows in the surrounding area, including Bushnell, Monmouth, Stronghurst, Macomb, Carthage, Burlington, IA and in La Harpe.
"The first show in La Harpe is Friday, September 16th at the La Harpe Davier Healthcare Center for National Rehabilitation Week.
"His other show in La Harpe is on Wednesday September 28th at 7 p.m. at the La Harpe Clubhouse.
"Anyone interested in tickets for the La Harpe show at the clubhouse or for booking Jesse for a show, you can contact Ryan Kienast of La Harpe.
Jesse also has recently bought DJ equipment and hopes to do this as well.
He also hopes to break into motivational speaking. There isn't much he can't do for being in a chair. He is very determined. He hopes people come out and see his show and support his talent.
If things go well, he hopes to come back in the winter and do some more shows.
Check him out at: www.jesseportercomedy.com
---