The Hancock-Henderson Quill, Inc.

---
Heat Dominate in Home Season Opener, 58-0
by Tami Postle, The Quill
Coach Roger Kerfoot and his West Central Heat opened their 2011 season with a dominating win over West Prairie 58-0.
The Heat wasted no time when Junior Quarterback Trey Goff punched in a 1 yard run 4 plays after a cyclone fumble with 11:11 left in the first quarter.
West Central never looked back as they scored three more times in the first on a safety by Riley Cavanaugh, a 70 yard run by Shane Cavanaugh and a 1 yard run by Ryan Russell. PAT's were good by sophomore Seth Mize.
The second quarter started strong when, with 10:08 left, Russell scampered in from 22 yards for a score. R. Cavanaugh and Goff also added TD's of 32 yards and 4 yards respectively.
West Central would score two more times in the 3rd to finish with 58pts.
Leading rushers for the Heat were Senior brothers Shane and Riley Cavanaugh with 5 carries for 108 yards and 3 carries for 106 yards respectively.
The defense held West Prairie to only 54 yards. Junior Joel Fryrear led in tackles with 4 solos and 8 assists.
The Heat's next game is against River Valley Friday night at Varna. Game time is 7pm.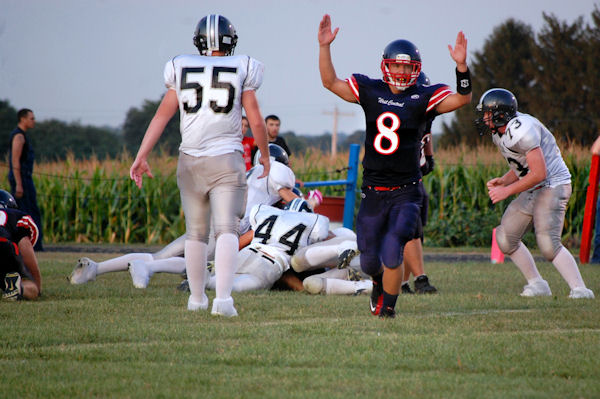 Heat Junior QB Trey Goff punched in a 1 yard run, 4 plays after a Cyclone fumble with 11:11 left in the first quarter.
-photo by Kayla Smith Photography
---