The Hancock-Henderson Quill, Inc.

---
Playing With Matches Results In Fire
Damage To Three Burlington Homes
by Ryan Kienast, The Quill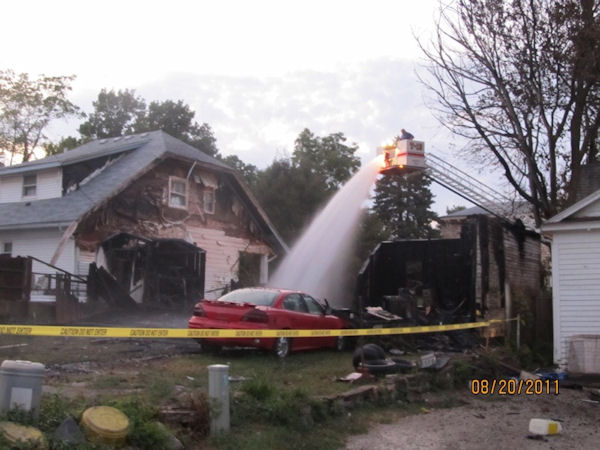 This is a vivid reminder of just why kids should not play with matches or fires.
On Saturday, August 20th in the early evening hours, a ten year old boy playing with a book of matches entered an abandoned home at 1209 Jefferson Street in Burlington, Iowa.
He lit a teddy bear on fire which in turn caught the house on fire.
The house, at one point, had big enough flames that it caught the two other homes on each side, on fire.
The homes are located at 1207 Jefferson and 1211 Jefferson (owned by my grandparents Jim and Sam Inman, who weren't home at the time).
After seeing on Facebook there was a fire at the address next to my grandparents, I immediately called them and they said they were on their way back to their house, and I and my wife Christy immediately drove there as well from La Harpe.
The Burlington Fire Department had arrived approximately 3 minutes after the call came in around 6:01 p.m.
At one point, all three homes were on fire at the same time and the area was blocked off so we watched and waited until after dark before being allowed back into their home.
The abandoned home was a total loss, and my grandparent's had extensive damage to the east side of their home, broken windows, some water damage and smoke smell, and they lost an outdoor shed and the adjoining privacy fence.
The home at 1207 Jefferson had little damage. Power was cut off to both homes but restored by 1:30 a.m. after a certified electrician had arrived to inspect the situation.
Please keep everyone in your prayers, including the ten year old boy, as each family works their way through this tough time.
My grandparents are safe and able to be in the downstairs of their home, but there is many decisions, clean-up, and replacement to be taken care of, including Grandpa's motorized scooter that was stored in the shed that was completely burnt.
They do, however, have insurance, and Grandma had just checked the past week to insure they had enough as they had suffered a loss of their home by a fire before.
With so much dry weather, places with burn bans, and this loss of property by fire, this is an excellent time to sit down with your children and explain the many dangers of playing with matches and starting fires. It can hopefully avoid a similar incident from happening here in the La Harpe area.
---