The Hancock-Henderson Quill, Inc.

---
Meet Your Neighbor
by Misty Huston, The Quill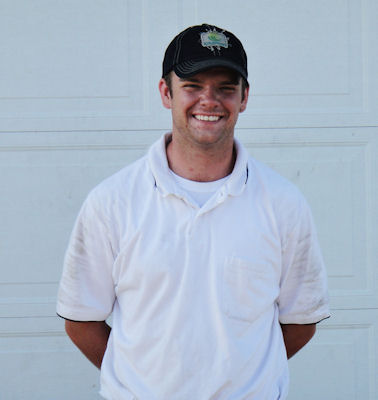 Meet Your Neighbor Chris Bertelson who resides in Galesburg.
He was born and raised in Little York.
In 2003 Chris graduated from Yorkwood High School. In 2007 he received his Ag Business Degree from Western Illinois University in Macomb.
He is currently employed at Channel as a District Sales Manager for Rock Island, Mercer, Warren and Henderson counties.
Previously he worked as an intern for Agrigold, Monsanto and Pioneer. In addition he worked on the family farm in Little York, which raises cattle, pigs and crops.
His parents are Tom and Sue Bertelson of Little York. Tom is a farmer. Sue is a registered "pig taker carer of Warren County" Chris said.
He has one sister, Carrie Pollard who manages a large swine co-op in Northern Illinois. She lives in Rock Island with her husband who is a Dairy farmer.
He also has one very special little four legged friend, his beagle Miley.
Chris is a member of Calvary Church in Galesburg.
He serves on the Warren-Henderson Farm Bureau board and the Alumni board for Alpha Gamma Roe at Western Illinois University in Macomb.
In his spare time he loves taking trips to see college friends from all over. He says, "There doesn't seem to be a weekend I stay home, I'm always traveling somewhere to get together with my friends. Somebody is always getting married or having a birthday or there's a game or something going on."
He also says, "I just love to go watch all kinds of movies. In the summer it is always a great way to go relax and cool off. No matter if it is 90 degrees outside it is always nice and cold in the theater".
In addition he loves to bale hay. He says, "It may sound a little crazy but I love to bale hay for people for really cheap just because I really do enjoy doing it."
Chris enjoys a special family tradition each year at Christmas and Thanksgiving when the entire Bertelson family gets together at Grandma and Grandpa Bertelson's farm to celebrate the holidays. He says, "It is like our own personal Bertelson family bed and breakfast. We have family from all over the place and every year everyone comes back and gathers at the farm. It is truly home to all of us".
---