The Hancock-Henderson Quill, Inc.

---
Meet Your Neighbor
by Christy Kienast-The Quill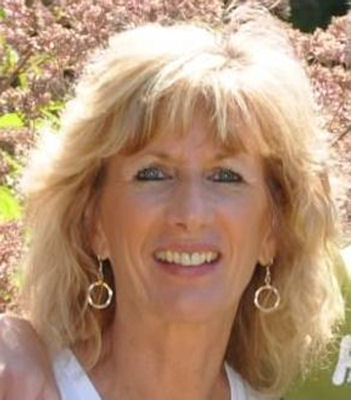 Kris (Butler) Pilkington is the Hancock County Treasurer and lives in Carthage.
She was born on December 22, 1957 in the La Harpe Hospital. No more babies were delivered at the Mary Davier Hospital in La Harpe after Dec. 31, 1957.
She was raised on a farm in Durham Township until her father retired from farming and the family moved to the big city of La Harpe in 1975.
Kris graduated from La Harpe High School in 1976. She was a cheerleader all four years, played softball, volleyball, basketball and was Salutatorian of her class.
While in school she worked for Richard Rasmussen, Attorney on the work study program and worked at Traveler's Inn after school and on weekends.
Kris attended Carl Sandburg in Galesburg and graduated in 1978 with an Associate Degree in Accounting. Her first job was with Burlington Roadbuilders in Carthage where she worked for four years.
Kris worked at Good Apple in Carthage for 2 years and then worked at Chem Gro in Adrian for 16 years as office manager before being elected as Hancock County Treasurer in 2002.
Kris married Rick Pilkington on Feb. 14, 1990 at St. Peter & Paul Catholic Church in Nauvoo. She remembers the day well. There was a terrible ice storm followed by snow. The windshield wipers quit working on their car and she and Rick had to stop many times on the way to the church to scrape the windows.
Rick is in his 30th year working at Chem Gro in Adrian.
They have 3 children: Rachel, 29 who lives with her fiancÚ Jerry and their son, Brody in Burnside; Seth, 20 who is in the National Guard and is a sophomore at WIU studying to be an Athletic Trainer; and Jacob, 18 who is a freshman at Quincy University majoring in Nursing.
Kris and Rick have one grandson, Brody, who will go to school for his first "full day" on Aug. 22.
Kris's parents were George Butler who passed away in 1995 and Mary Jeanne Foy Butler who passed away in 2005. Her dad was a farmer and her mom a housewife until George retired in 1975.
Mary Jeanne worked for Ron Morris at La Harpe Seed & Farm Supply, Jerry Jack at Tri-County Agro and for a short time at Chem Gro.
Kris remembers how wonderful it was to get off the school bus as a child and have her mom always be home, something her children didn't get to experience.
Kris's brother, Michael and his wife, Carole are farmers and live a few miles from Colusa. Sister, Jeanne works at the Hancock County Health Department and lives in Keokuk, IA, with her husband, Ron Westby.
Her brother, Steven, worked at Crop Production and passed away in 1998.
Kris's hobbies are running, working in the yard, and riding bikes with her husband.
She enjoyed going to her kids' sporting events when they were growing up.
Now that she has an "empty nest", she looks forward to the extra time she will be able to spend with her husband.
Kris feels that being elected Hancock County Treasurer was one of her biggest achievements, but marrying Rick was one of her BEST achievements!
She was named Hancock County Republican Woman of the Year in 2002, Kiwanian of the Year in 2008, and Carthage Citizen of the Year in 2008.
Some of her best memories are a recent hot air balloon ride that her husband took her on, and all the family vacations over the years.
Most precious memories are the births of her three children and the thrill of watching the birth of her grandson.
---