The Hancock-Henderson Quill, Inc.

---
Fred Gibb Show - Fun, Plus Lots Of Money Raised
by Christy Kienast-The Quill
The 13th Annual Fred Gibb Car show kicked the weekend off to a great start last Saturday morning, August 6th.
There were over 15, display only, cars and trucks and around 300 judged cars. The show was a great success.
There were many special additions to this year's car show, including 44 classes to enter your car into, with some cars coming from as far away as Florida, Texas, California, Georgia and Pennsylvania just to name a few.
The opening ceremony began at 10:00 a.m. with prayer by Pastor Bruce Goettsche and the raising of the flags by the La Harpe Boy Scout Pack 138 and the Illinois National Guard Military Funeral Honor Corp. Melissa Burt sang the National Anthem.
This year's show was special for the car show family as it raised money to help one of its own. Jamie (Jackson) Shuda was diagnosed with breast cancer in the spring of 2011. The car show family all wore pink and green shirts for this year's events.
These 11 colored shirts, donated by Outlaw Tees of Nauvoo, were auctioned off, including the shirt right off of our own Mayor Ken Browns' back. This special green shirt sold for $350.00.
In this effort, the group raised over $2000 for the Jamie Shuda Benefit.
Face painting was done by Carissa and Max Richardson, Bailey Brown, and Jordan Thomas and raised $50.00 for the Jamie Shuda Benefit as well.
Mike Boyd of Vettes for Vets donated $250.00 of their sales from the car show to the Great River Honor Flights. Glen Boyd of La Harpe went on an Honor Flight on June 23rd to Washington, DC and told the crowd about his experiences on this trip. Boyd says " It could make tears come to your eyes to be a part of that!"
The Fred Gibb Car Show gave $1000.00 to the Great River Honor Flights as well.
The winner of the 427 anniversary edition motor donated by Shottenkirk of Fort Madison, Iowa was
Nate Butler of La Harpe. The staff was also able to give $1500 to the Fred Gibb Scholarship fund.
For the first time, the #2 Fred Gibb ZL-1 was there, together with the #1 since the delivery at the Gibb dealership. Mike and Peggy Flash brought the #2 all the way from Texas.
If you didn't come to the car show, you missed out on the great food as well. The Hancock County Republican Women served pie, ice cream, baby elephant ears and sweet rolls.
Girl Scout troops 5051 and 5049 started out the morning well for all spectators and staff with biscuits and gravy. The La Harpe Golden Rule Club served ribeye sandwiches and butterfly porkchops.
Girl Scout Troop 5279 rounded out the day with polish sausage, saurkraut, maidrites, walking tacos and other delectables.
Also for a tasty snack, if all the wonderful food wasn't enough, Hillbilly Kettle corn owners Gary Grisham and Peggy Spiker were there selling their delicious kettle corn.
The La Harpe Ambulance volunteers were selling raffle tickets for several prizes and the La Harpe fire department was there with an air conditioned tent for patrons to get out of the heat.
Be sure to keep Saturday August 4th of 2012 open for the 14th Annual Fred Gibb Car show.
Stock class pre-1954-Barney Sly-Lomax-1946 Ford Coupe
Stock class 55-59-Rick Stauffer-Iowa City, IA-1957 Chevy Nomad
Stock class 60-67-Darrell Jencks-Cedar Rapid IA-1967 Chevy Impala SS
Stock class 68-70 -Terry James-Athems-1968 Pontiac GTO
Stock class 71-80-John Lorentz-Peoria-1971 Oldsmobile Cutlass
Stock class 81-99-John Guenther-Davenport, IA-1987 Chevy Monte SS Retrocoupe
Stock class 2000-Pres.-Ken Lowman-Hamilton-2000 Pontiac Trans Am
Mini truck all-Nick Seefeld-Aledo-1988 Chevy S-10
Truck pre-65-Kyron Fargusson-Sciota-1928 Model A Roadster pickup
Truck 66-79-Marvin Gebhardt-Blandinsville-1972 Chevy Cheyenne
Truck 80 pres.-John Bramley, Brighton-1993 GMC Sierra
4x4 pre-79-John Mangold, Rushville-1951 Chevy truck
4x4 80-pres-Byron White, Ferris-1995 Chevy k-1500
Extreme 4x4 truck-Kenny Foster-La Harpe-1988 Chevy Suburban 4x4
High school student truck-Jason Salrin-Quincy-1985 Chevy El Camino
High school student car-Hayden Fox-La Harpe-1970 Chevy Chevelle
Motorcycle stock-Lance Blythe-La Harpe-V Rod Screaming Eagle
Motorcycle custom- Randy Goble-Gladstone-2007 Ironhorse Slammer
Corvette 68-82-Rick Schisler-Good Hope-1982 Chevy Corvette
Corvette 84-99-Ron Figins-Riverside, IA-1995 Chevy Corvette
Corvette 2000-pres-John Morrison-Carman-2006 Corvette Z06
Mustang 64-79-John Bennage-Danville-1970 Ford Mustang Boss 302
Mustang 80-pres-Steve Arendell-Morton-2009 Ford Mustang GT500 Shelby
Nova 62-79 stock-Bill McDowell, Coralville, IA-1970 Chevy Nova SS 396
Nova 62-79 Modified-Ken Cantrell- Quincy-1966 Nova II SS
Camaro 67-69-Robbin Lucas-Burlington IA-1968 Camaro
Camaro 70-81-Mike Steitz-O'Fallon, MO-1970 Chevy SS 350
Camaro 82-92-Bob Potter-Monmouth-1987 Camaro
Camaro 93-02-Steve Blumfelder-Florissant MO-2002 Chevy Camaro ZL-1
Camaro 2010-all-Jim Harrison-O'Fallon, M)-2011 Camaro Pace Car
Factory muscle-Gary Woodrum-Macomb-1966 Chevy Chevelle 396
Tri-5-Ken Kaiser-Cedar Rapids, IA-1955 Chevy 2 Dr. Sedan
Street machine pre-65-Gary Ricketts- Monmouth-1957 Olds 88 Holiday Coupe
Street machine 66-69-Bill Hennke-Kirksville, MO-1968 Chevy Chevelle SS
Street machine 70-75-Richard Conrad-Alexis-1971 Chevy Chevelle
Street machine 76-pres.-Floyd Duffy-Carthage-1978 Pontiac Trans Am
Pro street tubbed-Bart Beuter-Solon, IA-1964 Chevy Chevelle Wagon
Street rod open-Dempsey Smith-Macomb-1935 Chevy Coupe
Street rod sedan-Paul Anderson, La Harpe-1948 Fleetline
Street rod truck-Brian Clark-Kirkwood-1980 Chevy c-10
Rat class all-Rex Scheetz-Carthage-1939 ChevyPanel Truck
Mini sport-Olivia Gowdy-Bolingbrook-2003 Cooper Mini
Special Interest-Walt Estes-Ottumwa, IA-1951 Chevy Coe
Best Ford-Terry Rashid-Ft. Madison, IA-1931 Ford Coupe
Best GM-Don Lattig-Peoria-1956 Chevy 150
Best Mopar-Ken Bundy, Gladstone-1968 Plymouth Roadrunner
Best of Show-Bryan Bridgewater-Rushville-1961 Chevy C-10 Panel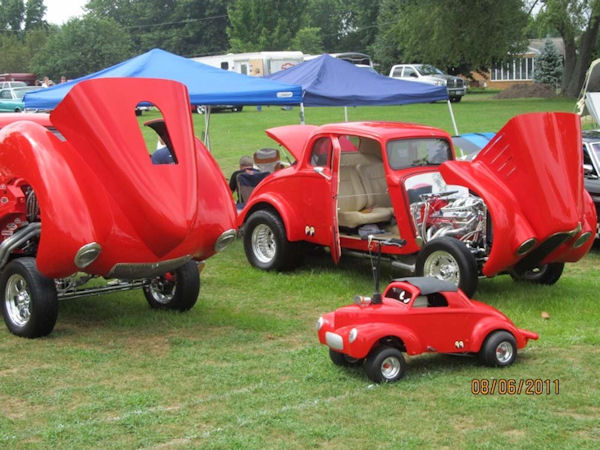 A good showing with lots of variety came to the 13th Annual Fred Gibb Memorial Car and Open Show this past Saturday in La Harpe.
---