The Hancock-Henderson Quill, Inc.

---
Meet Your Neighbor
by Christy Kienast-The Quill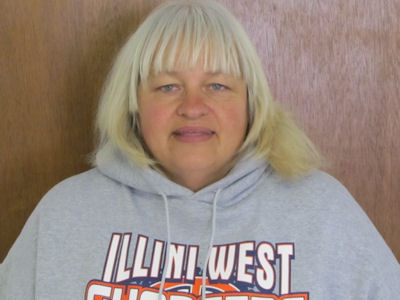 Meet your neighbor Donna Mershon of La Harpe.
Donna Stewart was born on April 15, 1956 at the La Harpe Hospital. She is the daugther of Donald and Florence Wayland Stewart.
Donna was the fourth of seven children. She was raised in La Harpe and has lived here her whole life.
She graduated from La Harpe High School in 1974.
Donna has one son, Ryan Kienast who lives in La Harpe with his wife, Christy and their two children, Haylee Christyne who is 10 years old and a fifth grader at La Harpe Elementary and 9 year old son Hunter Ryan who is in third grade at La Harpe Elementary. Ryan works at the Quill office and Christy works for Pella Corp. in Macomb.
Donna (Kienast) married David Mershon on April 9th, 2001 after a nine year engagement. David works at General Electric in Burlington, IA.
Donna lost her father, Don Stewart, in 1996 after a battle with cancer and feels very fortunate to still have her mother. Florence. with her.
Donna has 3 sisters, Shirley (Dick) Anders of Terre Haute, Betty (Nick) Nichols and Marylou Stewart of La Harpe.
She also has 3 brothers, Randy and Donnie Stewart of La Harpe and Terry Stewart deceased.
She enjoys her three great sisters-in law, Debbie (Wayne) Corzatt, Diane (Derek) Baker, and Denise (Randy) Trout all of La Harpe and her mother in law Jean Mershon of La Harpe.
She has an Aunt Lucille Coffman of Carthage, three aunts, Mary Ellen Oakman, Sandra Eddington and Pauline Silva, all of Colchester and one uncle Gaylord Wayland of Oregon.
She also has several nieces and nephews as well as great nieces and nephews.
Donna previously had worked at Methode Electronics in Carthage but now enjoys being an homemaker.
She especially enjoys riding their Harley motorcycle with her husband, Dave, and loves going to the grandkids sporting events.
She also enjoys playing cards with her mother and family friends.
Donna is known for making really great chocolate peanut butter fudge.
---