The Hancock-Henderson Quill, Inc.

---
Hop's On The Bunny Trail
by Christy Kienast, The Quill Reporter
La Harpe has its own "Hop" as the children found out when the Easter Bunny hopped into La Harpe this past Saturday, April 16th.
The Easter Bunny arrived for the 3rd Annual La Harpe Easter Egg Hunt which started on time, at 11:00 a.m., despite the cold, windy and rainy weather. The hunt is sponsored by the very supportive La Harpe businesses, and was a great success.
There were about 50 kids in total, which was down some from last year, but it still was a great turnout.
The hunt was done a little differently this year than in the past and organizers Ryan and Christy Kienast, Mike and Tina Lionberger think it turned out better.
Instead of counting the number of eggs, grand prize tickets were put in the eggs for each age group.
Also, in each egg in the hunt, there was either candy or tickets for smaller prizes to be claimed at the shelter house. This year's Grand Prize winners were:
0-2 years- Deacon Zaehringer of La Harpe,
3-4 years- Blake Bradford of La Harpe,
5-7 years - Jeremiah Snow of Good Hope,
8-9 years-Jaela Anders of
Terre Haute and
10-11 years- Haylee Kienast of La Harpe.
Also a gold and silver egg were hidden for the adults and they were found by Justin Graves (gold) and Chris Brown (silver).
Justin was the winner of a gift certificate for a subscription to The Quill and to the Country Caf.
Chris won a gift certificate to Christy's Creations and an egg full of candy.
Everyone had a great time
despite the weather.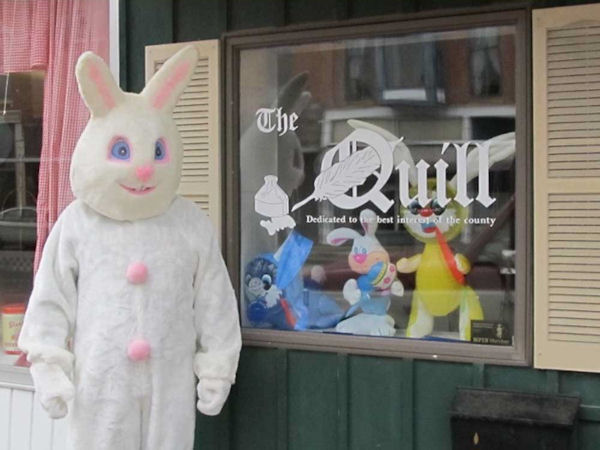 The Easter Bunny stopped to look in "The Quill" office and admire the pretty bunnies in the window.
---