The Hancock-Henderson Quill, Inc.

---
Meet Your Neighbor
by Susan Galbraith, The Quill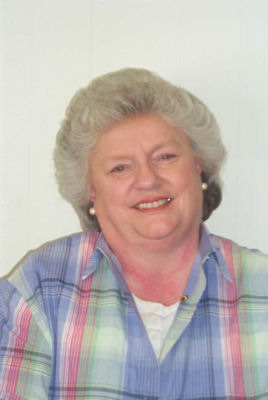 Meet Your Neighbor Kay Stevenson of Oquawka who is a 26 year cancer survivor.
Each month through July either a cancer survivor or a cancer caretaker's story will be printed.
This is Kay's story-
"I remember it like it was yesterday, the lump in my breast; it felt like a small bb, like one from a child's toy gun. I ignored it for a couple of weeks, I was only 34, it couldn't be anything serious could it? Cancer happens to other people, not me. But then I decided I should go see my gynecologist anyway. I loved Dr. McGee and trusted him completely with my life.
He examined me and said, "Well, I don't think it's anything but let's have a mammogram. In 1985, yes, 26 years ago, the test was done with something that looked like a huge inflated light bulb that they just held on your breast and it took the X-rays. Afterward the doctor said it showed a little bit of "star like" places in my breast and maybe I should have a biopsy, but he didn't think there was anything to be worried about. So I tried not to.
My next step was to go see the surgeon who did the biopsy and said, "Well it didn't look like anything to be worried about, come back in a week and I'll tell you for sure what the lab test shows and we'll take the stitches out". Little did I know at that time that my world as I knew it was going to change forever.
I worked for a dentist across the driveway from the surgeon's office and just walked over to get the stitches out, go back to work, and on with my life. When I walked into his office Dr. Saar said, "Did you bring anyone with you and I told him, no, that I was going back to work after and didn't think I needed to. I could see by the look in his eyes the minute I said it that I wasn't going to like what he was about to tell me. It was one of sympathy and it scared me! He said, "Oh, I wish you would have, cause I'm afraid I've got some bad news, you have a malignant tumor in your breast. It isn't one that can be taken out by removing a lump it's spread out through the ducts and you have to have a mastectomy right away"!
I honestly thought I was going to pass out at that moment.
Here I was by myself and I'd been dealt that dreaded "C" word. I didn't hear any other thing that man told me the rest of the whole doctor's visit.
I just walked out the door went back to work, picked up my purse, told the dentist and his wife what was wrong and drove straight to Country Fun restaurant to see the best friend a person could have.
Charlotte took one look at my face and knew something was wrong, loaded me into her car, drove me to Burlington and introduced me to a lady named MaryAnn who had been through it, twice.
Talk about an inspiration, this woman just looked at me and said, "You can either feel sorry for yourself and give up or you can fight for your life and take whatever you have to.
I've done it twice and still have it and I'm still here'! Those words have always stuck with me because I really had almost given up and I'd just been told about it.
I went home from that meeting with optimism and just waited for my husband, Wendell, to come home from work to break the news to him. It was at this point that I knew that I had my second "rock" to lean on.
He never ever let me think anything other than that I was going to be better. He went to the next doctor's visit and when Dr. Saar said, "Can you live with a wife who's had this kind of surgery?"
This wonderful man looked at the doctor with tears in his eyes and said, "I married Kay, I didn't marry a breast." If I had to have a leg or arm cut off she wouldn't leave me and I'll never leave her, I love her!"
That doctor put his arm out and shook his hand and said, "Wendell Stevenson, I'm honored to know you, there are some men who just don't get it!"
From then on my life was a whirlwind of tests to see if it went anywhere else. Brain scan, lung scan, bone scan, one after the other and thankfully my cancer seemed to have stayed in one place.
Dr. Saar insisted that I go for a second opinion and that turned out with the exact same results. But necessary for peace of mind. Doc Saar told me to go enjoy the 4th of July and we'd do surgery after, so that's what I did.
The surgery went well and I recovered really fast with no complications at all. I was so self conscious at first but then I got used to wearing a prosthesis and it didn't bother me anymore. To this day, no one knows that I've only got one breast unless I've told them or they've heard it. The feelings of inadequacy in being a woman with only one breast passed quickly and I just felt "alive" and "blessed".
The cancer doctor in Burlington at that time told me that I had to have six to eight months of chemotherapy and six months of radiation.
But after so many allergic complications from it all I went to Iowa City and they took me off of all of it.
My cancer hadn't gone anywhere outside the breast, why radiate bone?
My advice to anyone who ever gets a diagnosis for anything, surgery, treatment, outcome, just get that other opinion.
It doesn't take that long and it puts your mind at ease.
One doctor may catch something another misses or have a whole different perspective on things. Even three opinions if you're still questioning, it's your life.
The reason that I'm telling my story is, one: Because I want women out there who get this diagnosis not to think of it as a death sentence. I've survived 26 years now and they didn't have anywhere near the medicines that they have today. Two: if you do have to go through this kind of thing do it with people who you love and love you; like my family, Wendell's family and friends; ones who'll look at the bright side and be by your side no matter what, always cheering you on and letting you be yourself. If you're having a "fearful day" they'll just sit, talk, and let you cry, or just sit and hold you if you need a hug. Three: Put your faith in the Lord and let Him take care of the rest. He's always right there by your side believe me. Just trust!
I'm sorry to say that four years after I went through my ordeal I lost my sister, who was three years older than me, to melanoma. That was a whole other kind of cancer. Two things I'd like to say about that is. One: Be careful when out in the sun, it's true about what it does to you. And two: Melanoma isn't a death sentence anymore, the medical world has come so very far since the 80's.
Just be vigilant and keep an eye on yourself and your loved ones. Anything suspicious, no matter what, get checked out. Nothing is trivial. Mine was a bb size lump. My sister's was a mole on her arm. Seemingly innocent things but very life threatening if left unchecked.
Remember we've come so far in fighting the cancer battle but have so far to go. At this time of the "Relay for Life" remember what's been and what's still to come and give to this wonderful cause.
I'm a blessed survivor, along with many others that I know, and we're all here because everyone was here for us, not only the people who love us but also the people who give their time and energy for curing us and for future research. My dream, along with all others is that someday they'll eradicate this awful thing called "cancer"! In the meantime Never Give Up Hope!
---------------------------
Kay was born in Winfield, Iowa and when she was 14 years old her family moved to Sperry, Iowa.
Her senior year they moved to Henderson County and she graduated in 1968 from Union High School.
She was married to her hubby, Wendell, for 38 years before he passed away with a heart attack.
Her parents, Charlotte and Lloyd Allen are both deceased.
Her siblings consist of Carol (Wayne) Miller of Gig Harbor, Washington, Ed (Shirley) Allen of Longmont, Colorado, Connie (Dean) Taeger, deceased. Connie passed away with melanoma at the age of 41, Larry (Patty) Allen of Keithsburg and Cindy (Mark) Eveleth of Burlington, Iowa.
Kay is semi-retired but an extremely busy lady!
For 8 years before her retirement she was an dietary supervisor at Rose Bush Gardens in assisted living. She also worked for LaMarr Evans as a secretary, at various dental offices and also at Country Fun Restaurant.
She is very involved with many in the community helping out whereever she is needed.
Kay said, "We have 43 nieces and nephews and Wendell and I have felt we were the luckiest aunt and uncle in the world. We were blessed in so many ways with those young people."
Kay is very active at the Oquawka Methodist Church. Last Christmas she prepared dinner, in the church basement, for 30 members and she said, "I loved every minute of it and they are already asking if I am going to do it again this year!"
At the church she also helps with dinners for funerals, holidays, the bazaar, Easter, Mothers Day, Thanksgiving, and this year has helped the United Methodist Women prepare 1500 chocolate covered eggs.
She said, "My passion is cooking and baking."
The Oquawka Food Pantry is also on her weekly schedule of places she serves.
When asked about her hobbies she said, "I am an avid Christian TV watcher, love reading Christian books, working with flowers, dining out with friends and shopping in the Quad Cities.
She and Wendell took many vacations. They went to Las Vegas 18 times with their friends, the Fosters. They also spent several vacations in Florida visiting cousins where Wendell loved to golf. They also have visited her sister in Seattle, Washington. Kay said, "On several vacations we took along our nieces and nephews. We took Kyle and Josh to 6 Flags and to Disneyworld. We all loved it."
When asked what she enjoys most about her life now she said, "It's very simple, my relationship with the Lord."
---