The Hancock-Henderson Quill, Inc.

---
Meet Your Neighbor
by Christy Kienast-The Quill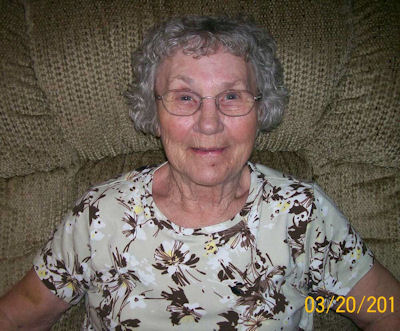 Meet your neighbor, Rosalie Kimler James of La Harpe.
Rosalie was born on February 20, 1931 in Blandinsville to Leonard and Sylvia Kimler.
Her father worked at the elevator in town and was a farmer and her mother was a school teacher at Ft. Green and taught 4th grade in Blandinsville. But she stayed at home in when they lived in town. They moved to the country when Rosalie was 12. She went to the country schools for four years and graduated from Blandinsville High School in 1949.
Rosalie was the youngest child with a sister, Margie, who was 14 months older. Margie lived with her children in Kentucky and passed away a few years ago.
On August 28, 1949 Rosalie married Merlin James. They will be married for 62 years this year. Merlin was a farmer and he says " I didn't retire, I just quit because I can't see anymore."
Merlin and Rosalie lived in Sciota for the first 2 1/2 years of their marriage. Merlin was born on August 12, 1927 to Orville and Frances James. Rosalie and Merlin have 4 children.
Their oldest son Mitchell passed away a few years ago. He has two children Derek, who lives in Macomb and works at McDonough District Hospital.
His daughter Joanna is married to Cory Johnson and they have a daughter Marissa.
Joanna works for a dentist and Cory works at home as a graphic artist.
Next is Mike. Mike married Donna Morrow and together they have 4 children.
Mike owns Plumbing Etc in La Harpe.
Their daughter Nicole is married to Derek Ainsworth and they have a daughter Kenadee.
Oldest son Craig has three children. Daughters Hailey and Makayla and son, Xavier.
Their son Cpl. Evan James passed away in 2003 while serving in Operation Iraqi Freedom.
Youngest son Grant is married to Bobbi and they live in Carbondale and they have two children Rachel and Ethan.
Rosalie and Merlins' only daughter is Charlotte and she lives in Colchester with her husband Mike Nelson.
Charlotte loves to watch the grandkids and Mike is a retired plumber. They have three children.
Amy works at Western Illinois University.
Todd works at the elevator in Bowen.
Tim lives in Peoria and works in construction.
Youngest son Greg lives in Blandinsville with his wife Anna.
Greg is a farmer and Anna works at Western Illinois University. Greg and Anna have 2 sons, Luke and his wife Jenna live in Des Moines and son Bryce goes to school in Carbondale.
Altogether Rosalie and Merlin have 11 Grandchildren and 14 Great Grandchildren.
Rosalie was known as a tomboy growing up and her older sister Margie was " Miss Priss."
Rosalie was self- employed for many years, retiring around 1987. She upholstered furniture.
One of her fondest memories is once on a Sunday morning she got all the children dressed to go to church and went out to get them all in the car. When they were all ready to go, she could not get the car to move.
Merlin wasn't around so she took all the children back in the house before they ruined their Sunday clothes.
As it turned out, there was nothing wrong with the car at all, Mitchell had just put on the emergency brake.
Rosalie is a member of the Christian Church in Blandinsville. She likes to read in her spare time and she loves to watch the grandkids play in the swimming pool.
---