The Hancock-Henderson Quill, Inc.

---
A Rockin' Good Time At Davier's 4th Annual Cookout
by Ryan Kienast, The Quill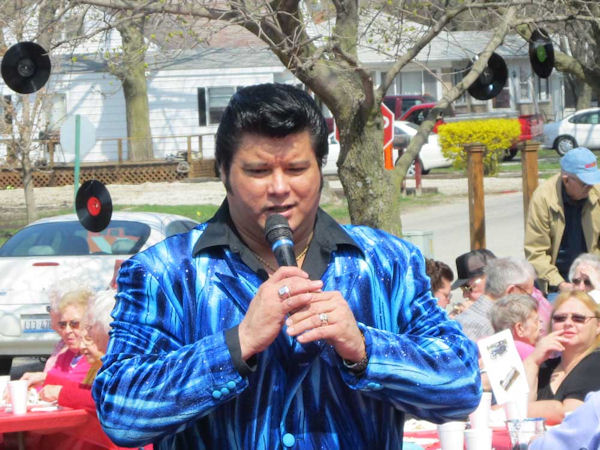 A whole lot of rockin' was going on Saturday, April 9th at the La Harpe Davier Health Care Center's 4th Annual Open House and Cookout.
It was a beautiful day for the annual celebration.
The grounds at the entrance of the facility where the entertainment was held were decorated with old records hanging from the trees and a car show of antique cars and trucks from the good ole days set the mood.
Junior Talley did an awesome job in concert impersonating Elvis Presley, and Talley's wife who was recovering from back surgery, sang a couple of Patsy Cline's songs including her hit single "Crazy."
Everyone, including my nine year old son Hunter, (and myself) really enjoyed the show.
The ladies, right out of "Happy Days" looked really "cool" in their poodle skirts and horn rimmed glasses.
Root beer floats were provided by Hospice Campasses.
Many door prizes were given out as well.
The lucky winners of door prizes were Velma Welch, Louise Collins, Colleen Douglass and Velda Wright.
Awarded for their entries at the car show were Kenny Brown "People's Choice," Ernie Campbell "Best in Show" and Gerald "Pappy" Thrapp from Macomb for "Furthest Traveled."
They had a great turnout and everyone seemed to be enjoying themselves and looking forward to next year.
---