The Hancock-Henderson Quill, Inc.

---
Meet Your Neighbor
by Susan Galbraith, The Quill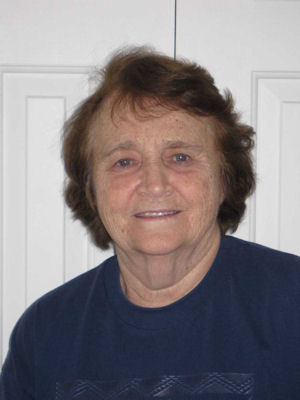 Meet Your Neighbor Donna Ferguson of Biggsville. She was born in Burlington, Iowa and raised in the Gladstone and Biggsville communities.
In 1954 she graduated from Biggsville High School.
She then married her hubby of 40 years, Max. She and Max lived on a farm in rural Biggsville until his death.
She says, "I was not a true farm wife because a true farm wife works outside all day and comes in the house in the evening and makes supper. I was just too tired to do that every night so we ate out some!"
On their farm besides crops they raised cattle and miniature horses. Presently their son, Rick, has taken over the responsibility of the miniature horses.
After Max passed away she bought an acreage in Biggsville and her children built her beautiful home.
She and Max raised four sons, Ron (Laurie) of Gladstone. Ron is an estimator and project manager for J & J Steel in West Burlington, Iowa;
Rick (Becky) live on the home-place in rural Biggsville. Rick is a plant operation carpenter at Great River Medical Center in West Burlington, Iowa and Becky is employed by WW Transport in Burlington;
Randy lives in Gladstone and is a welder at Case New Holland;
Tod (Pam) live in Lomax. Tod is an electronic technician for Ricoh and Pam is employed with a daycare in Burlington, Iowa.
Donna has 14 grandchildren: Erik, Joanna, Kyle, Nick, Jamie (boy), Chad, Jamie (girl), Dakotah, Zack, Emily, Madison, Emily, Lukas and Cole. She has also been blessed with 6 great-grandchildren: Ethan, Grace, Max, Austin, Kirsten, and Hayden.
She has one brother, Dick (Kay) Cook that live in Beebe, Arkansas.
Her parents, Happy and Skinny Cook are both deceased.
Donna is a member of the Biggsville United Methodist Church and serves on the administrative council and helps with meals at funerals and other events.
One of her hobbies is golfing. She and Max used to enjoy taking golfing trips together and golfing on weekends. She continues to golf on a league and with family and friends.
She keeps busy attending activities of her grandchildren and great-grandchild. They are involved in basketball, volleyball, baseball, swim meets, horse shows, and swim meets.
She has been involved in a ladies card club for over 50 years and truly enjoys getting together with her friends who are also fellow widowers.
When asked what she enjoys most about her life, she responded, "My children, grandchildren and great grandchildren."
---