The Hancock-Henderson Quill, Inc.

---
Extreme Make-Over Would Help With Ally's Needs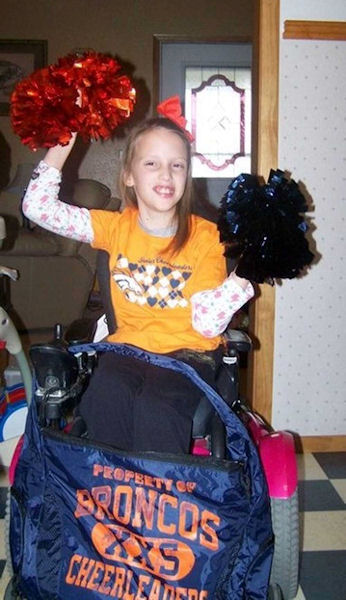 Your home should be a safe haven for you when you are a child. The place where you learn to walk, go to the bathroom and play independently.
For Ally Carel of Hamilton, that is just not possible because Ally has cerebral palsy and is in a wheelchair. Her parents Jason and Becky Carel bought their tri-level home in 2002, shortly after Ally was born.
Ally was born premature at 29 weeks, but it was 4 months later when she was diagnosed with Cerebral Palsly. She has a shunt in her brain and has had 9 revisions of that with the latest one on March 3 of this year.
In July of 2005, she had a selective dorsal rhizotomy, a surgery that entails cutting some of the sensory nerve fibers that come from the muscles and enter the spinal cord.
Dr. Park at the St. Louis Children's Hospital performed the procedure and has high hopes for Ally walking. But, due to her many shunt revisions and carpeting in their home, this is not happening.
Becky Carel says, "This all started out of frustration."
The couple needs to purchase a new van with a ramp in it so Ally can get in it easier, but, they are very expensive.
She was looking for grants on the Internet and couldn't find any for individuals.
She had posted a rant on her Facebook page and then she was urged to apply for Extreme Makeover: Home Edition.
The couple had joked about it at first. "Yea right, Hamilton, IL."
But they started a discussion on the EMHE website.
They suggested to friends and family if they thought they deserved and needed this to leave a comment.
It slowly got more and more posts.
A friend suggested that they start an event page on Facebook and see how many supporters they could get.
The number on the event page has grown to nearly 7,000 supporters.
"We were hoping something we were doing would grab the attention of the producers. "
Two weeks after they started the discussion. EMHE announced that they were coming to Illinois this season and they were asking for nominations to be emailed to castingillinois@gmail.com.
Jason and Becky posted this on their Facebook page and friends and family started emailing like mad.
They have had people from all over including France, Brazil and California all post saying they have e-mailed a nomination. They got an email from the producer and the Carels called her back. She said that since they were in such a remote location that it was a long shot and the show doesn't have any builders close by. But, she told them the new season starts April 17th and they are wanting to do an entire town. She believes that Hamilton could be that town and wanted to see some of the community support that she had felt from the emails she had received.
You see, the city library and the junior high school are not handicap accessible nor is the city park.
On Monday Becky and Jason's friends threw together a Rally 4 Ally.
They made nearly 100 posters and on Tuesday they held the rally.
Everybody wore the colors of Ally's favorite NFL football team, the Denver Broncos, so it was a sea of blue and orange. Jerad Harness was the emcee and they had special appearances by Hamilton Mayor Stephen Woodruff, the West Hancock Titan Cheerleaders and pom squad. KHQA videoed it for them.
On Wednesday, they taped some of their life around the house and KHQA compiled it all for them.
They emailed it, and their full application to the producer on Friday, April 8th.
Ally is a huge Denver Broncos fan. The Broncos cheerleaders have seen her video and have been in touch with the Carel family.
They sent Ally a Jr. Cheerleader shirt, cheerleading bag, hair bow, pom poms and a bracelet. They are hoping that as long as there is not a lockout, they can find a way to get the entire family to Denver for a game and incorporate Ally into their cheering.
There are six people in the Carel home. Jason and Becky, and their 4 children Alexis (10), Allyson (9),Evan (4) and Eli (2). Being a tri-level, their living room and kitchen of the house are on the main floor which are the only two rooms Ally can go in by herself.
Lexi and Ally have rooms in the basement with a toilet down there for Ally, and the main bathroom is upstairs.
Anytime Ally wants or needs to go anywhere, she has to be carried. And at 9 years of age and growing, you can understand how difficult this is becoming for Jason and Becky. It is also embarrassing to have her be carried.
The problem with their van is when she is in it, her head is only inches from the ceiling and once she is in, the motorized chair is not secured.
So, for long distances, they have to transfer her out of her chair and have her little brother drive it up.
All the Carels want is for Ally to have the freedom to go to her room or wherever she wants on her own. So, let's rally around and help them achieve their dream.
Websites are:
http://www.facebook.com/topic.php?uid=10150136203045543&topic=18653
http://www.facebook.com/event.php?eid=102918093126986&ref=notif_t=event_wall#
---