The Hancock-Henderson Quill, Inc.

---
Meet Your Neighbor
by Susan Galbraith, The Quill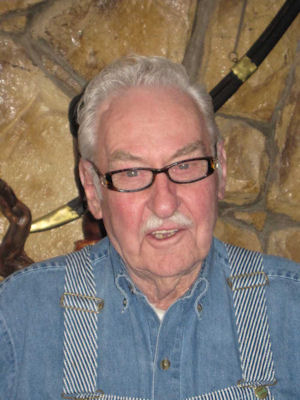 Jack Brokaw of Biggsville was born and raised west of Raritan on the old Brokaw home farm. He said, "When I was born my sister Lois, (then 3 years old) was the midwife. She helped with my delivery until the doctor could arrive.
His parents, George E. and Mary Florence Brokaw are deceased.
He has two sisters, Lois Campbell of Stronghurst and Lillian Bray of La Harpe; two brothers, James of Houston, Texas and John of Stronghurst.
In 1940 Jack graduated from Media High School. After high school he went to Chicago and was employed as a truck driver for Chicago and St. Louis Transfer Company.
He then joined the Air Force for 3 years. He enlisted after the bombing of Pearl Harbor.
He was shipped to England where he met his wife Pat. Pat had sung, when she was younger at family Pubs and when she was 19 she sang for big bands in ballrooms in Manchester, England. The story of their meeting happened when Jack had come into town, on a train, and saw this beautiful young lady walking by on the train platform. He was so taken with her that instead of getting on the train as he had planned, he promptly made a U-turn and got on the same train with her so he could strike up a conversation. He even said, "I went AWOL just to spend time with my beautiful Pat." Four months later they were married.
While he was enlisted in the Air Force he was selected to be in a cadre of the 397th fighter squadron in the 368th group (P-47's). He was a structural repairman ("sheet metal gang') and was first stationed in West Overfield, Maryland and then various locations across the states. He was continually moved so he would be closer to the coast as he was being prepared to ship out overseas. He was deployed on the ship Argentina.
Jack said, "While I was on a convoy on the Argentina, there were several ships that had sailed at the same time. During the night there was a submarine scare and when we got up the next morning we were the only ship in sight. The rest just disappeared."
He said, "After debarking the Argentina I was in Glasgow, Scotland and we were put on trains for Southern England. On June 9th I was on a LST (landing ship tank) weapons carrier to Omaha Beach. The first fighter planes were stationed on the continent."
After his marriage to Pat he was shipped back to the states and two months later Pat came on the Queen Mary. They lived in Kansas City, Missouri for 1 years before moving to his farm near Biggsville where they lived from 1948 to 1999. Jack then built a home in Biggsville where he and Pat resided until she passed away.
To their union they have two children. Terry (Arthur) Bourne of Gulf Shores, Alabama and Steve (Sheri) who lives on the Brokaw home place east of Biggsville.
He and Pat visited all 48 states when the kids were young. "We always enjoyed those family vacations."
They owned a home in Gulf Shores, Alabama for 34 years, traveling there first in the winters and then also spending some time in the summers.
He has 6 grandchildren: Tammatha, Julia (deceased), Christopher, Jason, Jared and Jonathen, 5 great-grandchildren, Victoria, Anthony, Julia, Colt and Cody and 1 great-great granddaughter, Kayla.
"I have gone back to Omaha Beach at Normandy on three different occasions. Twice with Pat and a few years ago I took my daughter, Terry, and husband and spent 6 weeks. We traveled back to the point where the LST of the 368th fighter group had landed when I was there.
A memorial plaque (rock), where the first landing strip was built on the continent after D-Day and dedicated to the servicemen reads: June 18, 1944 the 368th group was the first operation air unit in France after the D-Day advanced landing ground A-3 was built by the 816 Battalion AAF engineers of 9th Air Force in respectful memory to those who gave their lives for liberty. Cardonville, Defosse Fontenay 1-10-1988.
9000 men are buried at Omaha Beach.
"I also was a member of one of the Honor Flights from the Quad Cities. At the same time Mike West went with his dad, Raymond. I shall never forget how helpful Mike was to me. Upon viewing the plaques in Washington, D.C. there was no mention of General Patton on any of them. That was very disappointing to me."
Jack said, "Patton was a great general. I saw him once and his entourage of jeeps when they came to the German airfield where I was. I heard him yell, "Where the h-- is the gasoline."
Jack is a member of the Rozetta Baptist Church.
Jack laughed as he said, "Once when Pat and I were in Gulf Shores we sent Terry and Steve a $100 each to come down and visit. Terry came and Steve pocketed his!"
He enjoys stonework, woodwork, stain glass and farming.
Jack said, "What I have enjoyed most about my life was being married to my beautiful bride, Pat."
---