The Hancock-Henderson Quill, Inc.

---
Oquawka Has Fire Power
by Fire Chief Hal Jern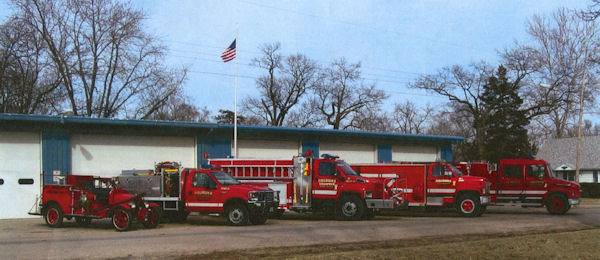 Below is the fleet appearance of the Oquawka Volunteer Fire Rescue. *1923-Engine 53, 1923 Model T Fire Engine.
*False Alarm and Parade Unit "Attack 54 2004-FWD Brush 1st Response Vehicle
*2008 Engine 52, 1250 front mount pumper
*1991-Tanker Tender-51 1800-gallon water tanker truck * 2000-Rescue Engine 50, 1250 multi purpose Fire-Rescue-Tanker-Rolling Fire Department on wheels with five man cab and cascade bottle refill station.
Pictured building left of flag pole Vintage 1967 Parkersburg two bay Fire Department. To the right three bay 1985 Butler Building also houses Oquawka's HN-16 ambulance crew.
Fire Safety
National Fire Prevention Week is Sunday, October 3rd to Saturday, October 9th this year and the theme for 2010 is "Smoke Alarms: A Sound You can Leave With."
During Fire Prevention Week the Oquawka Volunteer Fire Rescue will be at West Central Elementary School, Tuesday, October 5, at 10:00 a.m.
Here is the "Fire Safety Checklist for Parents and Guardians".
Fire can be very dangerous, so its important to do all you can to prevent them and to know what to do in case they occur. Use the Fire Safety Checklist below to help you keep your home free of fire hazards. If there is any thing you cannot check off yet, correct it so that you keep your family as safe as possible from fires.
Keep all lighters and matches in a locked or high cabinet and teach children not to play with them.
Educate children to stay away from hot things on the stove or outside grill. Turn pot handles toward the back of the stove top.
Use outlets safely. Do not overload them or plug more than one extension core into each. If you have very young children, place childproof plugs in any unused sockets.
Replace all frayed, cracked or broken electric cords.
Keep portable heaters at least three feet away from anything that can burn. Let children know that they shouldn't touch or play near them.
Unplug small appliances when not in use.
Install smoke detectors on every level of your home and near each bedroom. Let children help you test them monthly.
Place fire extinguishers on every level of your home, especially in the kitchen, basement and garage. Keep out of children's reach.
Have a fire escape plan, with two ways out of each room, and a meeting place for everyone to go to. Practice your escape plan with your family often.
Make sure all exits from rooms have nothing blocking them.
Know what task each family member has in a fire escape plan.
List emergency numbers near each phone. Teach children to dial 9-1-1 in an emergency. (f your area has a different emergency number, have your children learn it.)
Teach children to Stop, Drop and Roll if their clothes catch on fire.
Call Chief Hal Jern for a demonstration. The service is free to all who ask.
Some Facts About Fire
2008 in review...
U.S. fire departments responded to 386,500 home fires.
Home fires killed 2,755 people and injured 13,160.
Someone was injured in a reported home fire every 40 minutes.
Roughly eight people died in home fires every day.
A fire department responded to a home fire every 82 seconds.
83% of all fire deaths and 79% of fire injuries resulted from home fires.
2008 is the latest year for available data.
---