The Hancock-Henderson Quill, Inc.

---
Party Brings Closure To Henderson County's Flood Recovery Efforts
by Dessa Rodeffer - Quill Publisher/Owner
It was a big "Hurrah!" This time. There were lots of balloons, a huge cake that filled a table with big waves of blue frosting running clear across it, and a full course fish, chicken and holiday ham meal, and lots of door prizes sat in a corner including several TV-DVD players and one large big screen TV!!!
It was a different type of atmosphere than was felt two years ago, when a broken levee south of Carthage Lake brought a rush of raging Mississippi waters into the lowlands so fast that it almost trapped the Drainage District crew who were on watch at the Pumping Station. It sent at least one man to his roof-top, another man hung on to a tree branch after his escape route down the Carthage Lake road failed when the strong river current hit the side of his pickup toppling him and his dog into the water.
Water was rushing northward as well as east and south, and soon, most in the low lands were realizing they not only may loose most of their possessions, but may have no where to go back to.
It wasn't like the earlier flood the county experienced, when flood waters slowly made its way allowing some extra time to clear homes and storage sheds.
The untamed flood waters was reaching places in the county a flood had never been before.
People were in shock. Many had no place to go, so they stayed until they were told they had to evacuate.
Phil Gerstel said, "I felt so alone. I had no one, no family, and then no home."
He praises the Health Department staff for helping him through. "They have been wonderful!"
Since that Tuesday in June of '08, the Health Department staff helped us searched for solutions and made adjustments, listened to our concerns, were like family.
Over 200 affected by the Great Flood of 2008, responded to the invitation to celebrate making it through one of Henderson County's greatest floods.
So the final party began, Saturday, at the Oquawka Eagles Club, this time with more smiles than worries.
Most seemed content with their new locations, or the fact they are in the process of rebuilding a higher structure.
Some have moved back to the same area with more portable devices such as a mobile home they could pull out in a hurry if it floods again.
Another man Phil Gerstel, said, he was staying in Burlington, IA where his job is at the IAAP, rather than Gulfport, not wanting to repeat the nightmare again.
There were others who were now enjoying a great view from higher grounds overlooking the lowlands such as Lois Russell and her son and wife Larry and Nancy Russell. Lois built a new home south of Nancy and the late Bill Stevenson's. Larrys bought a house nearby in the subdivision by Indian Mounds.
They had survived the trauma and were now glad to be celebrating two years later with this closure to a nightmare they don't want to relive.
You could tell by the laughter and smiles that the flooded were grateful souls at this celebration. They know things can be replaced, or you can simply do without. The flood waters didn't claim any lives.
You have seen many victims make demands, but the 327 affected by the flood in Henderson County had gained appreciation for the smallest of things. An invite to dinner, a pat on the shoulder, a sack of food or clothes, a place to sleep did not go unnoticed. Even the offer of a friend's yard to set a camper in for a make-do home until things could be figured out, will always be appreciated.
The free meal and giveaways of gift cards, toys, and TVs were a nice drawing card, but those who came seem more interested in saying thank you to those who stood with them and helped to make sense out of their lives.
They would tell you that there were many deserving of a Leyda Burrus & Metz "High Five' monument in their front yards. Marty Lafary County Board Chair and Emergency Coordinator led the way working with Mary Reed, Administrator of the Health Department, the Drainage District crew, County Board, churches, contractors, IDOT, and many government agencies. They were front and center non-stop doing all they could through the long-ordeal. As hard as the county and residents worked, the heart ache and loss continually boiled down to the need for financial assistance.
Henderson County was fortunate in that someone appeared to help them out that actually followed through with DWYSYWD which tells the character of a man (Do What You Say You Will Do). The ironic thing is, his name is "Hero," and to the people working with the flood, that he is.
He was given the name Hero Tameling at birth, in Holland. Yes, he is an immigrant, and fortunately for those here who have suffered in the unfairness of life, Hero's parents moved to Illinois, where he paid attention to what it takes to succeed and how to follow the golden rule - "Love others as you love yourself" which means first you must become stable and strong so you can help others.
Hero was only 11, when he arrived in America with his parents and 3 other family members. They had 3 suitcases, no money, and no one could speak English.
He and his wife Janey lived near Joliet, in Crete, Illinois. She is also a Holland immigrant. They are sympathetic to those who live in fear of a flood and live in the lowlands. In Holland, many live in the lowland and people live in constant fear of the dike breaking. One year Janey recalls the dike broke and 3,000 people were killed.
The couple also loss their home in Crete after lightning had struck their roof in the middle of the day. Their 3-year-old was in the high chair and said she smelled smoke. Investigating, she found the roof was smoldering and by the time she called the fire department and her husband and went outside the roof had broke into flames.
Hero is Director of Security and Emergency Preparedness for the Illinois Dept. of Human Services. He said, " When the water flowed into the county, the officials and residents of Henderson County didn't just ask for help - they began to help themselves and each other."
Hero said he saw the great American spirit of caring for others, neighbor helped neighbor, community helping community.
"The Illinois Department of Human Services and its Office of Security and Emergency Preparedness is committed to fostering this culture of caring.
"People don't care how much you know until they know how much you care!"
Hero said, "It was in this spirit we formed an alliance with the Henderson County Health Department and county/municipal officials to assist the residents impacted by the devastating flood waters.
"We're honored to have been able to work with a team of true professionals in the delivery of public and mental health services, mold re-mediation and property restoration services, including the latest pumping system project for the Drainage District. This $1 Million plus capacity restoration initiative doesn't just replace the damaged system, but also helps ensure efficiency and capacity in the event of future events."
Mark Ford spokes person for The Drainage District at Carthage Lake gave Hero a gift of the old piston from the water damaged pumps, in fun, but gave a serious thank you to Hero for all his support and accountability.
Marty Lafary, shook Hero's hand and said, "Thanks! I didn't think you could do it." Marty said he has heard the lingo before from government officials, "but You did what you said you would do."
The Henderson County Health Department were the wheels for the grant money and wrote the many many checks. They gave their deep appreciation to Hero and his wife Janey for helping them work through the devastation so many felt.
"Janey and I cried to see the devastation. It's personal. But the smiles today, and seeing some sort of recovery is payment enough," Hero said. "We have been fortunate to work with this team of caring individuals. "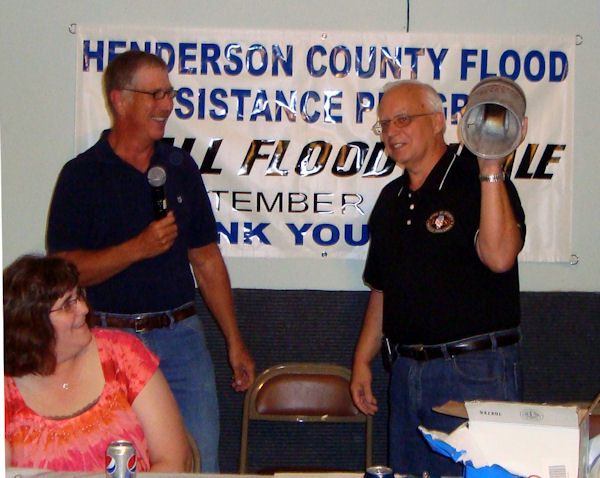 Mark Ford, (left) along with members of the Carthage Lake Drainage District presented Hero Tameling (right) with a thank you gift of a flood damaged piston from the pumping station.
---