The Hancock-Henderson Quill, Inc.

---
New Business in La Harpe-Foster Automotive
Colton is fixing what no one else can fix
by Macy Davis, The Quill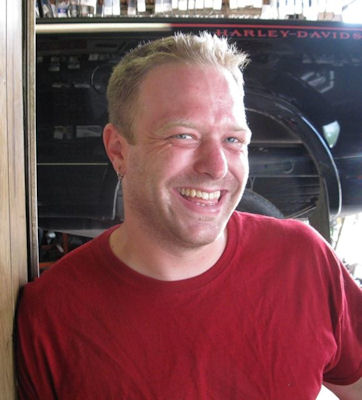 Colton Foster was born in La Harpe, but has had many "home towns" throughout his life.
He completed third grade in New York, eighth grade in North Carolina, and moved back to La Harpe to finish high school. He later attended the Central Christian College to become a youth minister, but that didn't work out exactly as planned.
Colton became a mechanic in 2002, working for K&C Garage for 10 months before he moved back to Missouri to work at another garage for a few months.
Colton says that he discovered his passion for fixing cars by accident. He became a mechanic to earn money and help pay the bills, and soon discovered that he had a special knack for the trade, so he decided to stick with it. Now Colton owns his own garage in La Harpe that opened full time in January, and enjoys fixing things that "no one else can fix." He also loves the challenge that a new project presents.
Colton is an avid collector of most any automobile, but particularly motorcycles. "It's hard to turn down a good deal," he chuckles. His favorite vehicle is a 1982 Chevy pickup. "It's not cool or anything, but it's what I drove in high school, so maybe that's why," Colton says.
Colton is the son of Lee and Nancy Foster of La Harpe, who met while Nancy was crossing country in a covered wagon. According to his mother, the group had stopped for the night when a "good looking guy on a motorcycle" pulled up next to them. The nice young gentleman brought them groceries on his way back home, and the relationship soon evolved.
Nancy worked as a housekeeper for Lee for three years. The fourth year, Nancy was unable to return to work, so Lee asked her, "Would you come back if I changed your name?" Of course, the answer was "yes!"
Colton now has five siblings, four brothers; Charles and Roger (Vermont), Heath (Davenport, IA), and Brian (Colorado), and one sister, Sierra (San Diego, CA).
When Colton is not working on cars, he enjoys riding his horse, Bob, as much as possible.
Unfortunately, as much as possible is a lot less than he'd like it to be.
Colton grew up riding horses, and it's always been a favorite pastime of his.
Colton's motto is to do nothing halfway. Do it right the first time. Going to a few extra lengths now, may save you a lot of money in the long run.
---