The Hancock-Henderson Quill, Inc.

---
Meet Your Neighbor
by Misty Huston, Quill Reporter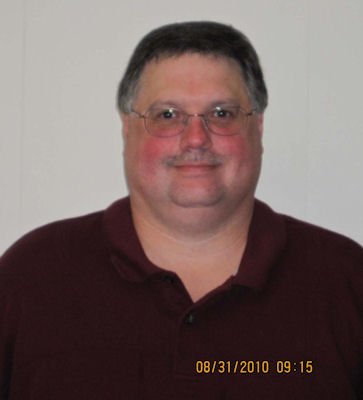 Meet Your Neighbor Pastor Steve Minkler of the Stronghurst Christian Church.
Pastor Minkler was born in Kansas City, Missouri, and raised in south central Missouri in Newburg.
In 1978 he graduated from Newburg High School and in 1982 he graduated from Central Christian College in Moberly, Missouri, with a bachelor of science in Christian Ministry.
He has been married to his bride Tania, for 28 years. To their union they have one daughter, Kelly, a sophomore at Central Christian College in Moberly, Missouri, and two sons, Matthew, a junior at West Central, and Ryan, a freshman at West Central.
Pastor Minkler was raised by his grandparents, Ward and Etta Minkler. They were members of the Church of God.
"My grandpa used to play the piano at church and my grandma sang. I always went to church with them and sat in the front pew," he said. " They were very involved in tent revivals and would travel from city to city. At that time movies were not held in theaters as we know them now but they were held in alleys. A curtain was put up on one of the walls in the alley and chairs were put up for the viewers."
His grandfather played background music for the movies. When the movie was over his grandfather played hymns and his grandmother sang. Pastor Minkler said, "When the evangelist stood up to preach, they had to add more chairs to accommodate people."
Pastor Minkler said that 208 people were converted by the methodology of the Church of God.
Some time later the Christian Church needed a pianist and his grandfather helped to fill that void.
When he attended church with his grandparents he became friends with the preacher's son and they both attended Bible college together and continue to be good friends.
He has one brother, Mike and a sister, Debbie.
Before coming to Stronghurst he was senior pastor of the New Galilee Christian Church for 10 1/2 years in Winfield, Missouri.
He has been in the ministry for a total of 31 years and has pastored in Missouri, Iowa, Indiana, and now Illinois.
He enjoys golf, fishing, sports and especially major league baseball. His team is the Kansas City Royals but he said, "Since moving here I've been trying to decide between the Cubs and Cardinals but am leaning towards the Cardinals."
He also helped coach Little League.
When asked what he liked about Stronghurst and his new pastorate he said, it feels like my own hometown.
"I am getting to know everyone and they are so down to earth, I really like that. My church folks are great people who have a heart for the Lord and others. I have a great respect for them, their values and how important their families are to them."
---