The Hancock-Henderson Quill, Inc.

---
New Restaurant Prepares to Open November 1st
by Dessa Rodeffer, Quill Publisher/Owner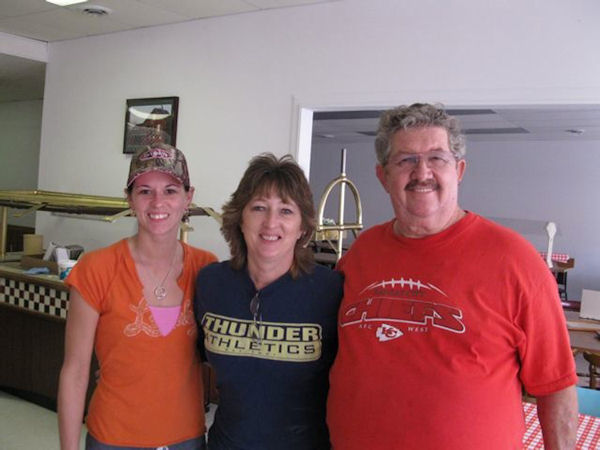 La Harpe will have another restaurant in town next to The Quill newspaper office on Main Street starting November 1st - "Country Cafe".
If the name sounds familiar, it's because the new proprietor, Rebecca Quivey is naming it after her father's restaurant (Larry Boone) that he ran across the street over 20 years ago between the First State Bank of Illinois and Wood Accounting.
Before that Larry ran the 8 Ball Cafe, 25 years ago, and later, Countryview at the east edge of La Harpe.
"I use to help in his restaurant, Rebecca said, and the restaurant business is kind-of in our blood," she said, referring to her dad, herself, and her daughter C.J. (Carolyn Willey) who she says will be her right-hand girl in this new endeavor.
C.J. has waitressed since high school now for 10 years presently working in Blandinsville at Tink's.
Rebecca said her dad Larry is here just to help her get the restaurant ready. He lives near Springfield, MO.
Her husband Max has also been a strong supporter and help. He won't be working at the restaurant unless perhaps as a "food taster."
Rebecca's known for her good homemade pies.
"I love making pies," she said. "I learned standing on a chair helping my Grandma Opal Browning and I never stopped making them."
Rebecca said besides helping her dad at the restaurant she worked in Florida 4 years at an Arby's franchise.
After her mother was killed in a car accident she continued her business, "Carol's Flower Nook" and the last 11 1/2 years she worked at Ritters Florist in West Burlington, Iowa.
"I chose the name Country Cafe due to name recognition to our family," Rebecca said.
She wants people to know she is part of La Harpe.
Rebecca is giving up a major job to invest in her La Harpe community and plans on doing her best to give her cooking and her restaurant a "country home feel".
She plans on good homemade cooked meals, specials for the farmers and business people, along with burgers and fries, etc.
She will add things slowly (pizza, Sunday buffet, etc.) and admits she is a little nervous about her first day, which she feels is coming up fast.
She will have a "soft opening" and plans on a grand opening after she gets everything running smoothly.
She will have enough room for seed corn events, parties and gatherings, she says, and will open now from 6 a.m. to 2 p.m. Sunday, Monday, and Tuesday, and from 6 a.m. to 9 p.m. Wednesday thru Saturday.
Rebecca said their children are now grown. Son Adam lives in Chicago doing construction and Megan lives in La Harpe and works at County Market in Macomb.
Rebecca looks forward in filling a nitch in the La Harpe community and in greeting the public on November 1st.
---