The Hancock-Henderson Quill, Inc.

---
Color Scheme Says It All-Illini Fan
-by Dessa Rodeffer, Quill Publisher/Owner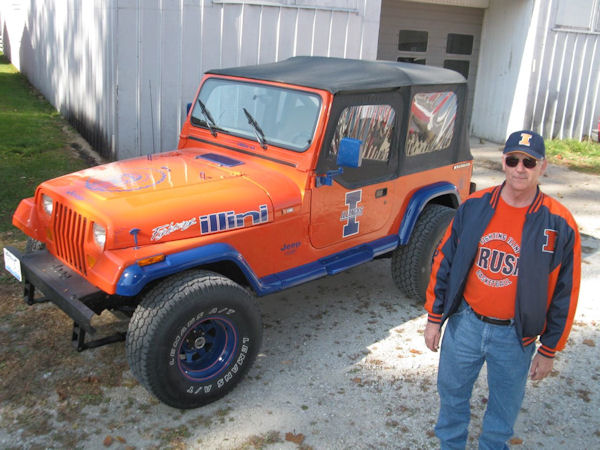 Stronghurst- Ron "Butch" Schaley's love for Illini sports started long before his daughter Dee Ann Tate graduated from the University of Illinois, he's not sure when, but rooting for Illinois University's sports teams is just what you do at Stronghurst Auto Body during the "Big Ten" football and basketball seasons.
So, when he purchased his "91 black Jeep Wrangler in Gladstone from David Thompson and put in new seats, a new windshield, new center console, new brakes, universal joints, etc., and had the rust spots fixed it was time to pick a color other than black.
"It was actually the girls at Security Savings that suggested orange," he said. Being a true Illini fan, it sounded like a good idea but he admitted, "It didn't look that great, just orange. We got talking' Illini colors and decided to do it," he said. "I'm in the trade and it's easy for me to do."
So running boards, rear view mirrors, rubber flairs that go over the wheels to protect the Jeep from rocks were all painted bright Illini blue. The interior was tan inside to keep balance and in tradition with Jeep, he said. Ron went to Burlington, IA to have Illini decals made that put the finishing touches on his big toy, and was given more than he asked for including an Illini Chief for his hood and below the Wrangler emblem on the back side.
"I sure hated to see the Chief go," Ron said. "It was tradition and what you looked forward to watching at halftime. The Chief was big just like doting the "i" is for Ohio State. It's an honor to do that and they usually select a celebrity like Jack Nicholas to come out and be the dot on the "i" when the band forms the word OHIO," he said. "It's just not the same at half-time since they took the Chief away.
"When you think of Illini, you think of the Chief doing his dance at halftime.
"I keep hoping they will re-instate it but it probably will never happen but I'm wishing they'd bring him back!"
Of all the projects Ron has done at the Stronghurst Auto Body where he works with brothers Roger and Rick , this has been the most fun.
"I enjoy driving the Jeep around but I probably won't be driving this Jeep to Champaign," he said. "I'll park it out front of my home for luck as I watch the game on TV. Illinois basketball should be good this year."
Ron admitted that the Illini football team is not up to its earlier Rose Bowl teams this year, but they are competitive and always fun to watch.
By the way Illini fans, the Jeep may be for sale for the right price. Check it out in color on the Quill's website at www.quillnewspaper.com.
This is where the color photo outshines the black and white one 100%.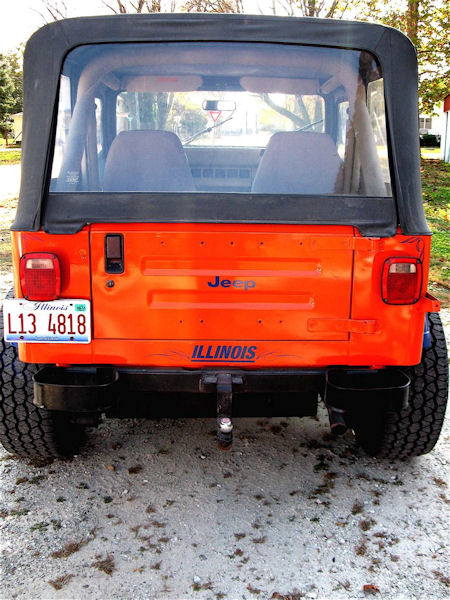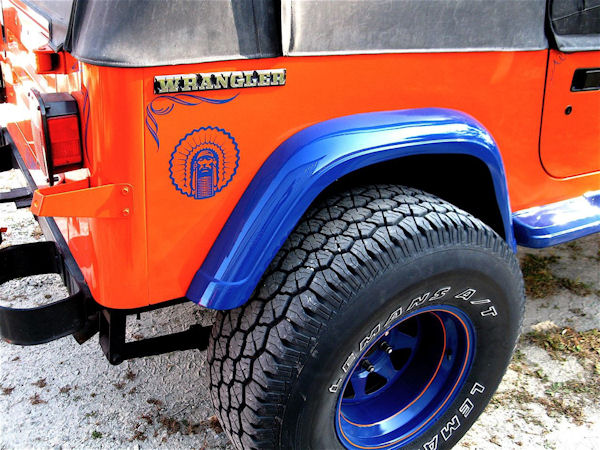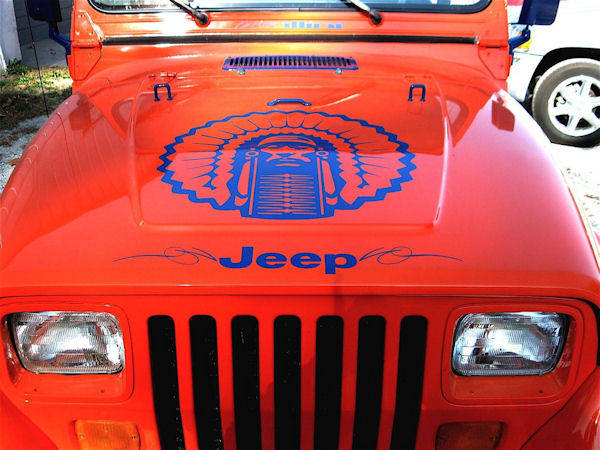 ---