The Hancock-Henderson Quill, Inc.

---
Meet Your Neighbor
by Susan Galbraith, Quill Reporter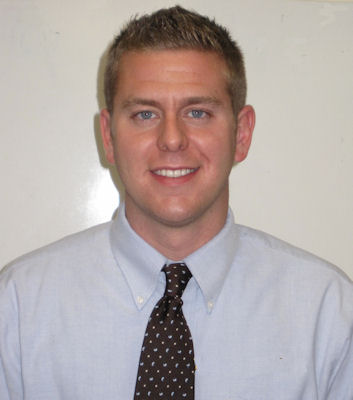 Meet Your Neighbor Drew Breeden a new staff member at West Central Middle School.
Drew lives in Macomb and is one of the special education teachers.
He was born and raised in Macomb and graduated from Macomb High School in 2005 and from Southern Illinois University, in Carbondale, in 2009 with a special education degree.
His dad and mom are Greg and Belinda Breeden of Macomb.
Dad, Greg, is employed at NTN Bower and mom, Belinda, is an accountant at Wesley United Methodist Church.
He has one sister, Ashley (21), who is presently a student at Washington University in St. Louis, Missouri.
He is a member of the Wesley United Methodist Church in Macomb.
Drew enjoys watching baseball, especially the St. Louis Cardinals, and playing baseball with his friends. He also likes playing disc golf.
He said, "I always wanted to teach but it wasn't until I got in the education program at S.I.U. that I decided on Special Education. The faculty and students definitely influenced my decision."
When asked what he liked about his new position at West Central he replied, "The kids are great! They may not always have the highest ability but they really put forth the effort and it is very refreshing to see their efforts."
---