The Hancock-Henderson Quill, Inc.

---
Mitchell Among Veterans On 11th Honor Flight to D.C.
by Dessa Rodeffer, Quill Publisher/Owner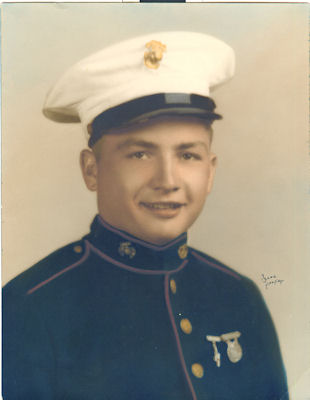 E
Earl Mitchell, of Galesburg, who managed Alexander Lumber Company in Stronghurst for 25 years, was looking for no reward for serving his country from 1944-46 during World War II, but the Honor Flight he took part in on September 8th out of the Quad Cities was very appreciated and something he will never forget.
Mitchell, who served in the U.S. Marines during WW II in 1944, 1945, and 1946, said, "The flight was above all imagination from start to finish. When we landed in Washington D.C., there were 100 people there to greet us and everything was like clockwork."
Mitchell and veterans were taken to the WWII Memorial, Korean, Viet Nam and other memorials and said they were all so impressive.
"I have seen a lot of pictures of the statue of the 4 Marines raising the U.S. flag over Hiroshima, but I didn't realize how impressive the statue was. It's unbelievable."
The flag is 74 foot from the ground just to the flag staff and the 60 foot flag is above that and is the largest bronze statue in the world.
"It was a Marine victory for the U.S. and I was a Marine so it means a lot to me. I've seen hundreds of pictures, but you can't comprehend how monstrous it really is."
Mitchell tried to explain the WWII monument saying there is a big unit on the east and on the west. The West is the Pacific unit and the East is the Atlantic unit. There are 54 columns which represents each state and U.S. holdings, and on each are two wreaths, all made from marble. Each wreath is different with a significant meaning. It started out with Delaware and Massachusetts, the first two states to be recognized, and then continued.
"You could fill a whole history book, just on that monument," he said.
He went on to talk about the 4,000 bronze stars and how each one represented 1,000 who were killed. "That is 400,000 that lost their life for their country," he said.
Mitchell saw the Tomb of the Unknown Soldier where he witnessed the Changing of the Guard. Everything was precision.
"Mr. Bob Morrison who heads up the organization in the Quad Cities and lots of volunteers made this an unbelievable trip. Everywhere you went there was someone there to assist you."
We were each assigned a bus in D.C. There were a lot of wheel chairs. I counted over 100, but they would load and unload the wheel chairs first, then the disabled and their guardian, and then the others. It worked perfect. They were always on schedule within minutes. "
"We filled up a 737 plane with wheel chairs and 100 veterans plus Guardians. When our plane landed in D.C. we were given the firemen salute that was given a pilot when he retires. They had two fire trucks on the runway shooting water across from each side as we went under it.
"On the flight back, they had mail call. We were handed envelopes with letters from our families or friends saying how proud they were of us. It was after 10:00 p.m. that same day when we landed at the airport back home, and there was quite a reception of 200-300 people. It was amazing,."
Mitchell caught Mr. Morrison and wanted to thank him, the crew, and volunteers and organizations that make these flights possible for Veterans.
Mitchell got to his hotel room in the Quad Cities after midnight with memories he will never forget.
"It was an opportunity of a lifetime." He said he couldn't pick one thing as his favorite. It was all beyond his fondest imagination.
Locally, Mitchell said "MSI Plumbing in Galesburg was one of the sponsors.
"They had a reception the following Friday at their Main Office and wanted to thank us again for serving in WW II. They had coffee and rolls and visited and the President of the Company gave us a nice speech thanking us."
The Quad-Cities Honor Flights In Honor of U.S. Veterans, are a way of paying a small tribute to those who gave so much-a memorable, safe, and rewarding TOUR of HONOR!!!
They transport America's heroes to their nation's Capitol to visit and reflect at their memorials in Washington, D.C. with top priority given to World War II survivors, along with those other veterans who may be terminally ill.
The Honor Flight network said, "Of all of the wars in recent memory, it was World War II that truly threatened our very existence as a nation-and as a culturally diverse, free society. Now, with over one thousand World War II veterans dying each day, our time to express our thanks to these brave men and women is running out."
Guardians pay their own way and the their load is eased for their caregivers by providing volunteers to escort the veterans on their trip. A flight includes : A t-shirt, Honor Flight name badge souvenir, 3 meals, tour buses and airfare to and from Washington DC in one day!
The Honor Flights mission is simply to fly as many World War veterans to their memorial in Washington DC as fast as they can without cost to them.
EARL MITCHELL'S SERVICE DURING WORLD WAR II
Earl Mitchell of Avon, Illinois was 18 when he was called by the draft to serve during World War II. He says he wanted to serve. "It was the patriotic thing to do. You wanted to do your share."
"I thought I was going into the Navy with my friend who ended up to be my brother-in-law. When we arrived in Chicago they said they need four guys to volunteer for the Marines and everyone stepped back. So he picked 'you, you, you, and you', and I was one of the yous."
His future brother-in-law Ed Parrish, went on to the Navy while Mitchell served in the Pacific in the Marines.
After a Camp Pendleton, California boot camp training, he stopped over in Hawaii at Pearl Harbor a couple or three days after its bombing, and then was sent to Marshall Islands. They ended up at Ie Shima Island off the west coast of Okinawa. It was where Mitchell saw the worst action in his 2 1/2 years. The communication building was located in between two air strips and the air strips were being bombed daily. He was fortunate it was never hit.
The Marines had one air strip and the Army Air Corp had the other running alongside it about two city blocks from each other. Mitchell and 6 other guys were right in between taking care of radio communication.
"There were 65 air-raids in 30 days from the Japanese," Mitchell recalls, "starting the night we landed. We took cover under anything we could find - trucks or whatever. We lost men that first night."
"The Navy CBs that do construction would have to patch up the airstrips each night before the planes could take off the next morning."
"Everything was too hot, we never had time to get homesick," he said.
Mitchell was in communications and was in charge of repairing electronics and radios and generators. He recalls that it was on that tiny island of Ie Shima where Ernie Pyle was shot by a Japanese machine gun just six days after President Franklin D. Roosevelt passed away. Pyle was perhaps one of America's most famous and beloved war correspondents who captured the quiet heroism of the American troops.
Mitchell, after being there 4 or 5 months, was sent to Okinawa and ended up in Japan for about 3 months after the atomic bomb was dropped before he had enough points to be sent home.
"It was a funny feeling to go to Japan but they treated us good. Our group took over an air field and an airplane factory that was pretty well beaten up. We took 150 Japanese planes and burnt them."
Mitchell said they were in a very primitive rural agricultural area in Omura.
From there we flew to Okinawa and took a ship to San Diego, California.
After a 30 day furlough - he was at Cherry Point, NC. Marine Air Base for a couple months, then discharged May 1946, and came home East of Farmington, Illinois.
Mitchell started to work and then married Shirley on August 19, 1948. They had 53 1/2 wonderful years together before she passed away on March 8, 2002.
Earl was with Alexander Lumber Company in Farmington and then moved to Stronghurst as Manager for 25 years until he retired March of 1991 after 28 years.
He is now a member of American veterans who are now looked up to as "The Greatest Generation" for their service to America during one of America's most united efforts in fighting to protect our country and our freedoms.
Mitchell has a daughter Linda Leinbach (Lynn) who lives in Stronghurst and is Assistant Manager at Alexander Lumber Co working there 34 years and he has a son Dan (Eva) Mitchell who lives in Raleigh, NC and is a Pharmaceutical Consultant.
He has two grandsons Scott (Angie) of West Burlington, IA who have two sons Mason and Mitchell, and Chad (Andrea) in Carthage. They have a son Isaac.
Mithcell's advice to veterans is to hang in there, and be sure to take the "Honor Flight" if you can. "It's an opportunity of a lifetime!"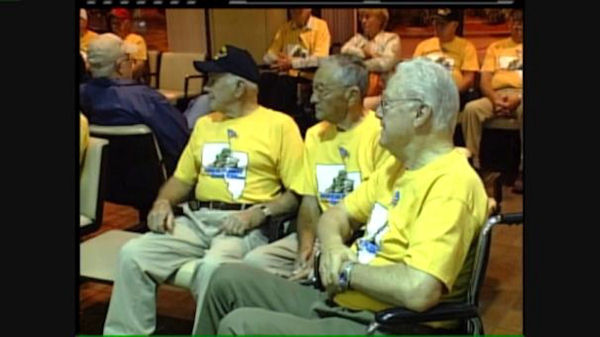 photo by Kyle Kiel - courtesy WQAD-TV
Earl Mitchell, center front, waits with other anxious veterans to board the early morning "Honor Flight" to his nation's capitol which he and his comrades fought for during WW II.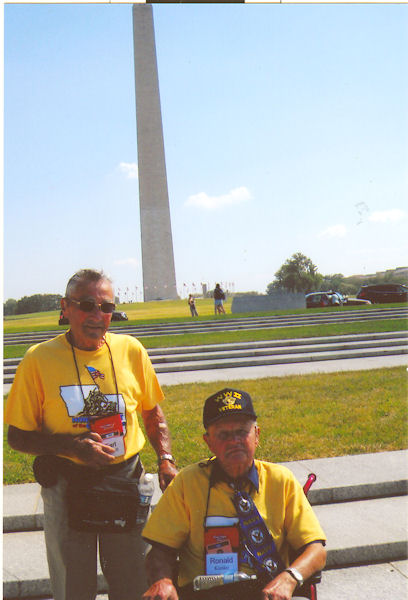 U.S. Marine Veteran Earl Mitchell, left, and a fellow veteran enjoy a memorable day at their nation's capitol Sept. 8th.
---