The Hancock-Henderson Quill, Inc.

---
Meet Your Neighbor
by Susan Galbraith, Quill Reporter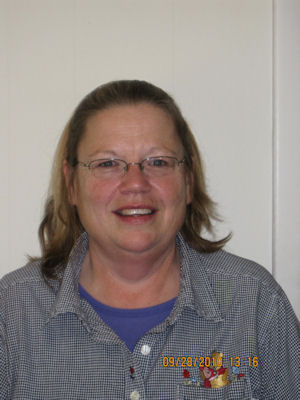 Meet Your Neighbor Debbie Mehaffy of Dallas City.
Debbie is employed part time at Fishers Food Center in Stronghurst and previously worked for F.S.A., a department of the USDA.
She was born in Fort Madison, Iowa, and raised in the Danville, Iowa, area.
In 1975 Debbie graduated from Danville High School.
She has one son, Michael (28) a quality engineer for Borghi in Burlington, Iowa, and who has recently traveled to Italy on business. Her daughter, Jennifer, (27) is a graphic designer for Catfish Bend Casino in Burlington, Iowa. Both were valedictorians of their high school classes and both graduated from Western Illinois University in Macomb with summa cum laude.
Debbie has been involved in genealogy for 16 years. She has reseached 6 generations for the families of Mehaffy, Anderson, Koch and Morrison.
Her parents are Jack and Wanda Mehaffy, both deceased.
Debbie grew up in a large family of one sister and six brothers. Her only sister is Kathy (Delmar) Jacob of Stronghurst. Kathy works at Lance Foods in Burlington, Iowa, and brother-in-law, Delmar, is employed as a post office rural carrier and bus driver for the West Central School district. Brothers, Bob (Paula), Mehaffy live in New London, Iowa, where both are dairy farmers; Dwayne works at Woodruffe Saw Mill and lives in Danville, Iowa; Brad (Kayleen) live in Danville where they both are employed at the Wal-Mart warehouse in Mt. Pleasant, Iowa; Brian (Belinda), lives in rural Danville where Brian is employed at the Iowa Ordinance Plant in Middletown, Iowa, and Belinda is employed at the Danville Nursing Home; Kevin works at J. I. Case and lives in Denmark, Iowa, and Alan, lives in rural Danville, Iowa, and is employed at Liberty Foods in Mt. Pleasant, Iowa.
She enjoys sewing, crocheting, cross stitching, doing various crafts and of late Debbie has started doing acrylic painting.
In getting ready for the Christmas holidays she makes homemade ornaments for each of her 15 nephews and 5 nieces. She said, "That way when they leave home they will have their own ornaments to put on their tree."
When asked what she liked about a small community she said, "People become my family and especially my neighbors. I have lived in Dallas City for over 30 years and love it. No matter where I work I love working with people."
---