The Hancock-Henderson Quill, Inc.

---
Meet Your Neighbor
by Dessa Rodeffer, Quill Publisher/Owner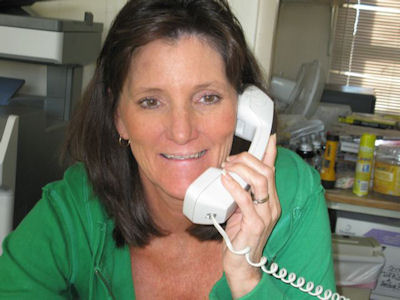 Meet your neighbor, Sharon Hocker of rural La Harpe. She is a grain accountant and after 21 years, the girl in the know at the La Harpe Elevator.
Sharon works a 5 day a week job, 12 months a year and does everything from balancing books, dispatching trucks, buying and selling grain to answering a slew of questions concerning storage, markets and whatever's on the mind of today's farmers.
During harvest she works extended hours, usually 12 hour days.
This time of year she is constantly getting phone calls but still can buy and sell grain, answer employee and customer questions, send out trucks, and do an interview with the press at the same time without blinking an eye.
Sharon says she loves the action and the people, even the "Harvest Monster" who without fail, sends her flowers during harvest to make up for his many questions and sometimeshistesty disposition.
She receives frequent calls on the prices of drying and storing grain, or they request a truck to come pickup their grain or they want to know the hours they are open, or are they taking grain, and especially what she feels the market is going to do.
This Monday, Sharon was telling a farmer that the prices had gone up the limit the last two days, plus had gone up overnight. She said corn was up 39 cents trading at $5.47 and it could go up 45 cents, and soybeans were up as well. He indicated he might wait until it goes up higher, and she laughed and told him that's okay, I will buy it from you later at $3.50.
Sharon was born to Bill and Bonnie McKeown of Fountain Green now of Blandinsville. She was delivered by Dr. B. I. Mueller at the La Harpe Hospital and her dad was a hired farmhand. But in 2nd Grade, their family moved from Fountain Green to Blandinsville and her dad became a seed salesman for King Seed.
Sharon has two sisters and four brothers. Teresa (Rex) Huston, Vickie (Ted) Williams, Rick (Tammy) McKeown, Wendell (Lila) McKeown, Wade (Yvonne) McKeown, and Robert (Janet) McKeown. All live within driving distance, the furthest, Robert, lives in Springfield.
Growing up in Blandinsville, Sharon kept busy mowing yards for $2.00 (plus she got candy), and babysitting. It was a busy household with 7 kids, she said.
Sharon recalls making haunted houses by getting empty boxes from couches at the furniture store.
They would put three together, set them along the alley and cut holes in them to hang spiders and things. Then we would charge fifty cents to kids in the neighborhood to go through them.
With their creative minds, they were always up to something with friends.
Her Dad always came home each day with a gallon of milk and two loaves of bread. Her mom loved to cook and so did Sharon. They never made just a double batch of cookies, but a triple just hoping there would be a dozen left by the time they were finished.
When Sharon's mother started working second shift her folks never knew who all was in their house when they got home.
They would each bring home one or two friends and instead of 7 there could be 14 or 21 in the house, some on the floor, three on the sectional, and the rest upstairs scattered about.
They did this all with one bathroom and got along just fine. Later her dad put a shower in the corner of the garage which they could only use in the summers.
Today people think they need 3 or 4 bathrooms, Sharon said, but we got along just fine.
She remembers how they loved riding their bikes from Blandinsville to Fountain Green to see their Grandma McConnell.
"She could crack the whip, and we gathered eggs and shook rugs, but we had lots of fun there," Sharon said. She remembers her old crank phone - three shorts and two long on a party line.'
She recalls her girlfriend shared a line with one of their school teachers and when she and her girlfriend would be talking awhile, her teacher would get on and scold them and tell them they should be studying, and to get off the phone. Then she would use the line.
Sharon married Scott Hocker in Jackson Hole, Wyoming on July 25, 1980. They just celebrated their 30th anniversary.
They live west of La Harpe in the home that Scott's parents (the late Bob (a State Trooper) and Virginia Hocker) built in the 60's.
Sharon and Scott have four children: Jennifer Hocker in Bowen; Chad (Tracy) Hocker, La Crosse with 2 children Marissa, 15, Levi, 9; Matt (Jami) Hocker, Fountain Green and 3 children Kellen, 9, Camryn-6, and Aiden-2; and Robbie Hocker, 27 of La Harpe.
Sharon is a 1975 Northwestern/Sciota graduate where she enjoyed art and loved cooking and sewing in Home Ec.
She has worked as a waitress at Sugar Daddy's at the East edge of La Harpe and at Tinks in Blandinsville; switch board operator at McDonough District Hospital 2 years; Receptionist at Dr. Lefler's in Macomb and she helped her husband in the field when they first married and loved it.
She loves the challenges working at the La Harpe Elevator owned by Roquette, especially during harvest. Last year's was the most challenging and the longest harvest in her 21 years there.
"It was pretty wild" with some farmers not getting their crops in until April 2010!" she said.
This year's will actually be one of the shortest harvests that she remembers due to the poorer yields.
Beans aren't too bad, some say its just average for their farm ground, but most are seeing a much lower corn harvest yield.
In her spare time she enjoys winter, but she loves best the spring planting, spending time at the river on their pontoon boat, and the fall harvest time.
---