The Hancock-Henderson Quill, Inc.

---
Meet Your Neighbor
by Nancy Lionberger, The Quill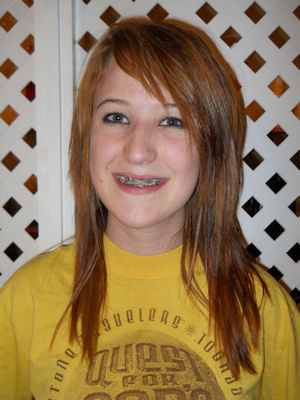 Meet Your Neighbor Ashley Nicole Cox of La Harpe, a junior at Illini West High School. She is a waitress at the La Harpe Family Restaurant.
This is Ashley's first job, being there about seven months. She likes serving the customers.
On April 19, 1994 Ashley was born at McDonough District Hospital in Macomb to Brett and Michelle Cox. She lived in Lomax until moving to La Harpe in 2002 where she started third grade.
Her father, Brett, is Supply Chain Manager at The Hawkeye Group In Mediapolis IA. Her mother, Michelle, is the Social Services Director at Oak Lane Nursing Home in Stronghurst.
She has one brother, Nathan Robert, with the U.S. Navy stationed at Patuxent River MD Naval Air Station. His area of duty is Master at Arms/Military Police. Ashley and her family visited Nate this past July and the Washington DC area.
Her sister, Clarissa Ann, is a freshmen at Illini West High School. Grandparents are Bobbie and Geraldine Cox of Pineville MO and Bob and Nancy Lionberger of La Harpe.
Ashley is a member and regularly attends the La Harpe Christian Church. Her hobbies are art-drawing and oil pastels, every genre of music, being with her friends, and attending high school football games.
She has two cats, Simba and Nala and one dog, Ginger.
Ashley plans to be a registered nurse after attending either Southeastern Community College or the Blessing-Rieman College of Nursing.
When asked about what she enjoys the most in life she exclaimed "Being with all my family and Jeremy and I love Christmastime!"
---