The Hancock-Henderson Quill, Inc.

---
3rd Annual MDA "Riding for Roo"
The skies were blue but there were sounds of rumbling in West Central Illinois and Southeast Iowa as flashes of neon green shirts tracked along the route of generous businesses for the 3rd Annual MDA "Riding for Roo" ride this past September 12th.
The event raised money for the Jerry Lewis Telethon in honor of "ROO" son of Rick and Tammy Bundy of Oquawka. What a sight to see 67 motorcylces and cars, 4 of which lead the convoy, followed by a convertible carrying "Roo", wearing neon green shirts in which family members had "01" on their left sleeve in memory of Jerimy Brockett. The ride started off at the Eagles Club in Oquawka where sign up, directions were handed out, and tables of raffles and items waiting to be auctioned off.
The last stop was Graham's in Gladstone and ended back at the Eagle's Club for good food, talk of a fun filled ride, and the voice of Gene Roark auctioning off donated items, one of which was a bicycle donated by "Roo" to help his fellow Jerry's kids. "Roo" also made his way around the filled chairs with a hat that soon became too small to hold all the money dropped in by all in attendance.
It took many to make the ride possible--those who organized it, the ladies at the Eagles Club, businesses who donated items, and those who allowed the sea of neon green shirts to flood into their doors to get papers stamped for the drawing and a refreshing beverage, and Allan Miller who made the shirts and the trophies.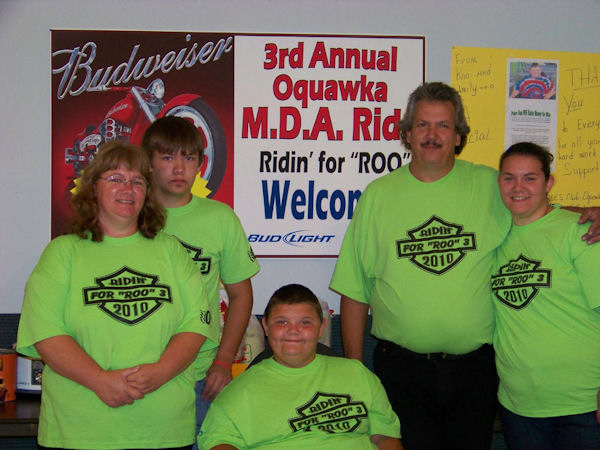 "Roo," center has a big smile surrounded by family: his parents Tammy and Rick Bundy and brother Matt and sister Liz, raising money for MDA.
---