The Hancock-Henderson Quill, Inc.

---
Claire Rodeffer Is 103
Grandmother Celebrates Birthday
by Macy Davis, The Quill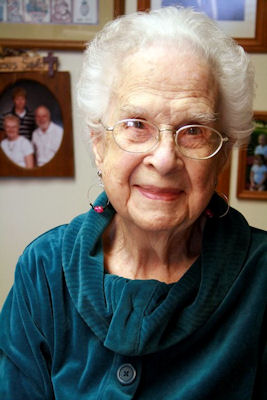 M. Claire (Avise) Rodeffer, known so fondly by her family as "Grandmother", celebrated her 103rd birthday October 27, 2010.
Claire was born in Dallas City in 1907 to parents Walter "Dick" and Ethel Avise. Her father worked as a mailman when she was a child, while her mother took care of the home. The chore she most remembers doing as a kid was standing on a box in order to reach the sink so that she could do the dishes. "I didn't think I should've had to do that," she recalls. Claire has many fond memories from her childhood as well. She had an aunt who lived next door that was younger than Claire, and they spent many nights talking through their open bedroom windows, as well as dressing their cats up as babies and pushing them around in strollers. She also loved to play with her cousins in their grandpa's barn, jumping from the loft into the piles of hay below.
After graduating high school, Claire moved to St. Louis for two years to work, and then returned in 1929 as a nanny for Millard and Annas Myers. In addition to caring for the baby, she made cream and butter, cleaned the house, and did laundry in a washing machine with a hand crank to make it spin. During this time Claire reconnected with a close friend from high school, John Rodeffer.
The two were married June 28, 1930 in Monmouth at the home of Emmer and Helen Rodeffer. "I wouldn't trade that day of my life for anything," she affirmed.
Her first son, John Henry, wasted no time in arriving and was born two weeks early in March 1931. Her second son, the late Jerry Rodeffer, was born in 1936, then, in 1942 her daughter Ann was born, followed closely in 1943 by her youngest son, Joe.
When asked if she remembered much of the Great Depression, Claire shared that she and her family were, thankfully, not very affected by it. John had a steady job as a teacher and was able to support his family through the years of the Depression. Claire does, however, recall the rationing of things such as sugar and gasoline.
One of the hardest things she recalls is during World War II, when John was drafted and had to travel overseas. During his absence, Claire was often compelled to borrow money from her grandfather, but she stressed that at the beginning of the month she always paid him back. She would not be caught in debt.
On Sunday afternoons she would go to the movies by herself, while John Henry looked after the rest of the children.
Due to the fact that, after John's deployment, it was only Claire and her four children at home, John was released from service and allowed to return home to his family.
Of all Claire's accomplishments throughout her life, one of her most memorable is when she was the director of a kitchen band.
She directed the band with a fly swatter. The group consisted of approximately 17 members.
Members played kazoos and other instruments as well, such as a bass drum, a tambourine, a washboard and piano.
"If anybody wanted music, we had it!" Claire stated.
The band played at several county and state fairs, winning first place in a competition at the Illinois State Fair.
"We had some rip roarin' times," she reminisced. Claire stayed with the band for several years until her good friend who played the piano passed away; after that she decided she had been with the band long enough.
Claire's husband, John, passed away in 1994 on October 24, the same day a close friend's husband passed away. The funeral was held October 27, Claire's birthday.
"I don't know why I've lived so long, maybe God doesn't want me up there," she chuckles, "I've had everything under the shining sun." Her words of wisdom: "Clean up your kitchen at night so you don't have to stare at dirty dishes all day long."
Claire currently resides in Abingdon with her youngest son, Joe, and his wife Ellen. She loves how her grandkids and great grandchildren always say hi when they stop by for a visit.
To celebrate her 103rd birthday, Claire had dinner at the Asian Buffet with her children and their spouses: John Henry and Pat, Ann and John [Treat], and Joe and Ellen. Her grandson BJ and his wife Megan were also present.
Claire presently has 10 grandchildren and 23 great-grandchildren.
---