The Hancock-Henderson Quill, Inc.

---
Meet Your Neighbor
by Susan Galbraith, Quill Reporter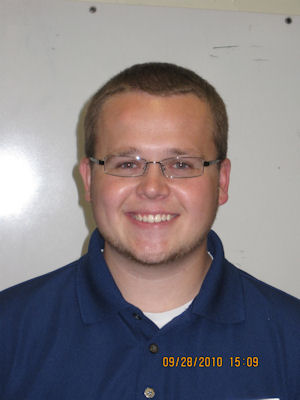 Meet Your Neighbor Jeremy Hennings a new staff member at West Central Middle School who lives in Burlington, Iowa.
He is the 6th grade math and a social studies plus being part of an after school tutoring program and also involved in the Enrichment Program.
He was born in Bloomington and raised in Springfield.
In 2005 he graduated from Pleasant Plains High School and continued his education at Illinois State University, in Normal, where he received his Bachelor of Science in 2010 in Middle Level Education with endorsements in math, language arts and the social sciences.
He is engaged to Jamie Predl of Oswego. Their wedding date has been set for October 1, 2011.
Jeremy's mother is Jennifer Bridgewater, an accountant at Memorial Medical Center and step-dad, Bud, is employed by the EPA. They live in Springfield.
His father, Michael Hennings is employed by State Farm and lives in Bloomington.
Sister, Stephanie (Aaron), Bennett resides in Champaign where Stephanie is an elementary teacher and Aaron is the head news anchor for WCIA.
His step-sister, is Emily Bridgewater.
He enjoys spending time with his fiancee, Jamie, family and friends. He also likes watching baseball and football either in real life or on television. His favorite teams are the Chicago Cubs and Chicago Bears.
Golf is one of his favorite sports and he also loves traveling. This past summer he spent some time in New Jersey and New York. He said, "Vacations are just fun."
When asked what he liked most about his new job he said, "I love the kids. In middle school there is always something new and interesting and the staff is also very helpful.".
Jeremy said, "The biggest influence in his life on becoming a teacher was his sister, Stephanie."
---