The Hancock-Henderson Quill, Inc.

---
Meet Your Neighbor
by Nancy Lionberger, Quill publisher/owner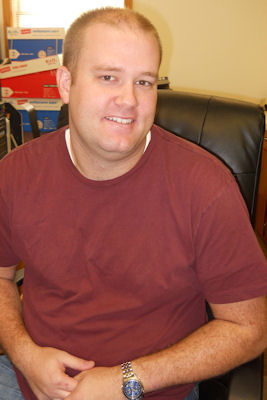 Meet your neighbor Rick Goettsche, Minister of Outreach and Education at the Union Church in La Harpe.
Rick and his wife Sarah were married July 30, 2005 and reside in La Harpe. Sarah is a stay at home with the family Mom.
The couple have two children, Gabe eight years and Gracie who is two and one half years old.
Rick was born February 13, 1983 to Bruce and Maggie Goettsche at the Burlington Medical Center.
With the exception of college, he has lived his entire life in La Harpe. Rick graduated from La Harpe High School in 2001 and from Southern Illinois University-Edwardsville in 2005, with a degree in Biology-Pre Med. May 2011 he will reach yet another milestone in his life:.completing his Masters Degree with Liberty Baptist Theological Seminary.
Rick's father, Bruce Goettsche is Senior Minister of the Union Church in La Harpe and his mother, Maggie is Director of Performance Improvement at McDonough District Hospital in Macomb.
Rachel Rutan, a physical therapist at McDonough District Hospital, is Rick's sister. She and her husband Michael live in La Harpe. He delivers for Refreshment Services Pepsi.
This past August marked four years of service for Rick as Minister of Outreach and Education. His duties include working with the youth groups, the Sunday School program, is in charge of the multi-media program and the outreach activities of the church. One project just completed is Mission 25:40 where church members of all ages bring shoeboxes for needy children of the world filled with Christmas gifts. 119 boxes were collected from this effort and will be sent this month.
The next project Rick will oversee is helping a small church in the Philippines.
Money will be sent there to help provide grocery baskets for families.
As for Rick's hobbies, he enjoys reading and electronics of any kind. On Sunday mornings and other services you will enjoy his voice and guitar talents as he leads the singing of songs and hymns.
Rick is a friendly and congenial young man to get to know. In closing Rick said, "The Union Church is my second family since I've been here all of my life!"
---