The Hancock-Henderson Quill, Inc.

---
Meet Your Neighbor
by Susan Galbraith, Quill Reporter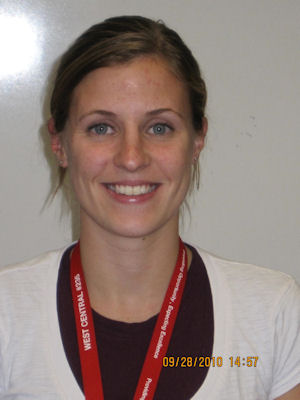 Meet Your Neighbor Marci Patterson lives in Alexis and is a new staff member at West Central Middle School.
She teaches 6th grade literature and is involved in OLWEUS (an anti-bullying program) and RTI (Response to Intervention) which teaches and helps students with organizational skills and personal issues. It gives them incentives to help themselves.
She was born in Galesburg and raised in Alexis. She lived in Fort Worth, Texas, kindergarten through second grade.
She attended Alexis High School her freshman and sophomore years and graduated in 2006 from United High School.
In 2010 she received her bachelor of science in elementary education from Western Illinois University, in Macomb, with endorsements in middle school literature, language arts and math.
Her parents are John and Debbie Patterson of Alexis. John works for Burlington Northern Santa Fe Railroad. Mom, Debbie, is employed as manager at Clover Manor in Woodhull and Cardinal Manor in Alexis.
She has four sisters, Sami (Josh), Dunn of Alexis. They have two sons, Jacob and John and a daughter, Lauryn. Sami is a receptionist at OSF St. Mary's; Cheryl Patterson is a physical therapist in Chicago; Melissa is a math teacher at Galesburg High School and Megan is a junior at United High School.
She enjoys her dog, Sophie, hanging out with friends and spending time with special friend, Brian. One of her special joys are her "auntie" times with her nieces and nephew. She also takes marshal arts classes at OSE Wolf Pack in Monmouth.
When asked what she liked about her new position at West Central she replied, "I like working with the kids. I have been around kids forever and even babysat for the same family for 10 years. The kids just "crack me up' by telling funny stories. The staff has been very welcoming to me. At one time I wanted to teach pre-school but changed to elementary education."
---