The Hancock-Henderson Quill, Inc.

---
Megan Shutwell Memorial Scholarship
The first Megan Shutwell Memorial Scholarship was announced at West Central's recent Awards Night May 11th.
The scholarship is in memory of Megan R. Shutwell, a 2001 graduate of Union High School, who was in the top ten percent of her graduating class.
Megan was a member of the National Honor Society, Student Council, Band, Who's Who Among American High School Students, various extra-curricular activities, and received the USAA All American Scholar Award. Megan was also Prom Queen, her junior year.
She was very involved in sports, especially track. She participated in track, volleyball, and basketball, all 3 years of junior high, and all 4 years of high school.
In high school track, she held 4 individual school records, and qualified for the state meets in 13 out of 15 tries, bringing home many medals. In volleyball, she was Team Co-captain, First Team All Conference. In basketball, she was Team Co-Captain, with several other awards.
But, most important, Megan believed in maintaining a focus on academics, while participating in sports. She was very dedicated to everything she set out to do, was very humble, and did not brag about all of her accomplishments. She was a very well rounded student and was a great role model for many other students.
Megan's mother said, "As a little girl, Megan's favorite number was the number 3. She chose that number in everything she could, including sports, all through her junior high and high school. She even collected things, with the #3 on them, just because she loved that number."
"That is why, it only seems right, to make this scholarship, for $300.00, to a senior girl, who had participated in at least 1 sport, all 4 years of high school, and also must have maintained a GPA of 3.0, or above, who will be attending a 2 or 4-year college."
The first Megan Shutwell Memorial Scholarship was awarded to Justine Dillard, the daughter of Mr and Mrs. Scott Dillard of Stronghurst. Justine will be attending the University of Iowa as a pre-med student. She has also received the University of Iowa National Merit Scholarship of $4,240.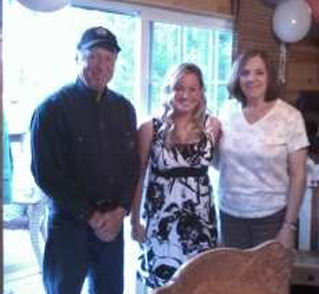 Jerry and Peggy Shutwell of Biggsville, stand with Justine Dillard, the first recipient of a scholarship given in memory of their daughter, Megan Shutwell, to a West Central graduate who is college bound.
---