The Hancock-Henderson Quill, Inc.

---
Meet Your Neighbor
by Shana Jackson, Quill Reporter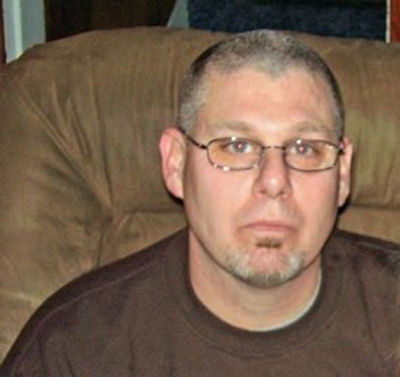 Meet your neighbor Ed Pence, born in Mt. Pleasant, IA and raised in La Harpe graduating from La Harpe High in 1984.
Ed moved away and lived in Iowa, Missouri, and Michigan before coming back to his home town in 2000.
His parents are David and Alice Pence of La Harpe. His dad farmed his whole life and his mom worked in factories and retired from Methode Electronics in Carthage.
Ed states that his parents are the proud grandparents of 10 grandchildren and 1 great grandchild. They love spoiling their grandkids but also spend a lot of time catering to their dog, Missy, a mini pin, whom Ed says runs their household.
Ed's one brother, Tim, passed away in 2001 and he has 2 sisters. Jerri Lynn Smith, passed away with cancer in 2004 and Nancy Vogler, lives near Roseville and works at the grain elevator in Colchester.
Ed married Stacey on Oct. 12, 2002. They knew each other in school but reconnected in 2001 when Stacey bought a stove from Ed at Lowes. "Stacey asked me to deliver the stove to her and I guess you could say the rest is history. She is my rock and inspiration and I love her with all my heart." says Ed.
Ed has 4 children:
Travis Pence, 21, who just got married on April 24th 2010. He resides in Monmouth with his wife, Alicia.
Lacey Covert, 21, who lives in La Harpe with husband, Brian and their daughter, Hayden. Lacey and Brian were married Dec. 2009.
Montana Pence 15, lives in Stronghurst and is a Freshman at West Central High. She is active in cheerleading and Student Council and is looking forward to getting her license in Sept.
Then there is Wyatt, "a miracle from God," who will be 2 on Aug. 8th. "He keeps us very busy," stated Ed.
Ed is a Territory Sales Manager for Kellogs' Snacks. His territory runs from Bartonville, Canton, Macomb, Beardstown, Farmington, Lewistown, and Havana. He calls on 12 grocery/retail stores ordering and stocking product and selling and building displays.
The product line he is responsible for ranges from Keebler cookies and crackers, Cheez-it snack crackers, Special K and Nutra-Grain breakfast bars, Kashi cookies and crackers and breakfast bars.
He has been with the company since April 2005.
Prior to that he worked for Lowes Home Improvement warehouse, and Wal-Mart. "I guess you could say retail is in my blood" says Ed.
He enjoys spending time with family and friends, working in the yard and watching sports of all kinds. His favorite sport is Nascar and his favorite driver is Jimmie Johnson, four time defending champion. Not that Ed wants to rub that in.
Ed is especially looking forward to watching his nephew, Ryan's senior year of football coming up this fall. Ryan attends St. Teresa High in Decatur.
Ed's favorite childhood memory would be when he lived on a farm about a mile north of town and during his junior-high years when he would ride his bike to town every summer and hang with his best friend, Darren Brown. Ed says they would play Wiffleball, ride bikes, or just hang out at Darren's house watching TV or listening to the Cubs games on the radio. "I would hate to guess how many times we rode our bikes to the old Coast to Coast store to buy new Wiffleballs and bats," states Ed.
---